Australia
Welcome to the land of wonder: the land Down Under! Australia is the world's oldest continent and its only island continent. It is home to one of the world's oldest civilisations living together with one of the world's youngest. It is home to the world's largest living formation, the Great Barrier Reef, and the world's most unique building, the Sydney Opera House. Whether you stay for a week or venture out to discover more of our magnificent land, we guarantee you a great time. Click here for more details about our island home, or read the information below so you can plan your itinerary.
Australia is multicultural nation and no matter where you are from, you'll fit right in. And just so you can understand what others are talking about, there are a few Australian sayings for you to practice before you arrive:
G'day = hello, good morning, good evening, good day. The correct response is also "G'day".
Aussie = an Australian: someone who lives in "Oz'. When you arrive, you'll be an honorary Aussie. Being a multicultural nation, everyone fits in.
Barbie = not the doll, but a barbeque. A typical Aussie meal where people stand around an open fire and watch the snags (sausages) burn, whilst having a tinnie (beer) or two. It isn't a real barbie unless the snags are charred black and the beer is cold.
Beaut = really good.
Fair dinkum = honest and true.
Howyagoinmateorright? = How are you? How do you do? The typical response is "Orright" = I'm fine thanks, or "Beaut".
Kiwi = a New Zealander: one of our mates. They come from across "the Ditch" (Tasman Sea).
Mate = friend or a term that's used when you are meeting someone for the first time or you can't remember someone's name: "G'day mate" is always a good way to start a conversation. We're all mates.
Outback = inland Australia, away from the coastal fringe where most Aussies live. A fascinatingly rugged, harsh but beautiful environment inhabited by some unique characters. Also called "Beyond the Black Stump" or "the real Australia". Be sure to visit it on a Pre or Post Congress Tour!
Prawn = a shrimp (seafood).
See ya = goodbye. Also "toodle-loo" or "see ya later".
Yabbie = small freshwater lobster (crayfish). Not to be confused with a "Balmain Bug", also a delicious seafood crustacean. Try them at one of the beaut seafood restaurants in Darling Harbour.
And never use words such as "Crikey!" (what a surprise!) or "Cobber" (friend), or everyone will know you're not a real Aussie. You'll learn more at the Congress!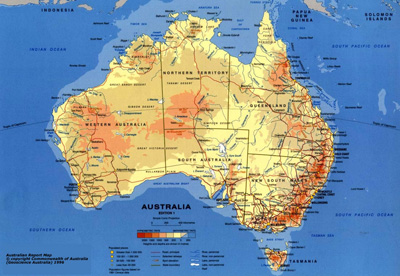 NSW - New South Wales
Sydney
Sitting on one of the most beautiful harbours in the world Sydney enjoys a mild sunny climate and miles of golden beaches. Stroll along Circular Quay enjoying the sights of the world famous Opera House, or why not climb the Sydney Harbour Bridge! Enjoy the local seafood along with fine local beers and wines and take a walk around the historic Rocks area to see original landmarks.
Blue Mountains
A 1½ hour drive west of Sydney, the Blue Mountains are named for their distinctive blue haze (caused by the oil from Eucalyptus trees!). Featuring amazing rock formations such as the Three Sisters there are many varied bushwalks to view native flora and fauna. The unique limestone formations in Jenolan Caves are a must on the agenda and the quaint country towns of Katoomba, Leura and many more are a world away from the hustle and bustle of the city.
City of Sydney Official Website: www.cityofsydney.nsw.gov.au
Tourism New South Wales: www.sydney.com.au
CitySearch.com.au – Sydney: www.sydney.citysearch.com.au
The 'World's Best City" as voted in 2005 by Travel +Leisure Magazine in the US (and 8
times in 10 years) and Top City in the Pacific Rim by the US Conde Naste Travellers' Choice Awards 2005.
Hosting a convention in the World's Best City won't cost the earth. Sydney is comparatively better value than key international cities such as London, Hong Kong and New York.
A leading global business centre, Sydney is Australia's financial capital and boasts dynamic leaders in the financial services, information and communications technology and biotechnology industries.
Sydney boasts a large medical and scientific research community and is home to some of the country's chief universities which are renowned for their innovative research and teaching.

Easy access with more than 40 international passenger airlines flying into Sydney International Airport.
A seamless and professional event infrastructure which has seen the city deliver many world class events, including the Olympics and many of the most prestigious international congresses.
On the waterfront in Darling Harbour and only minutes from the centre of the city, the Sydney Convention and Exhibition Centre is a world-class centre with the expertise to host congresses of any size.
World-class hotels with most major international chains represented and a range of accommodation options to suit every style and budget.
In a fiercely competitive international bidding arena, Sydney is Australia's strongest asset
and markets itself for organisers, consistently attracting record delegate numbers.
With over 37 years' experience in bidding for national and international events, the Sydney Convention and Visitors Bureau offers a wealth of experience and knowledge to help you deliver an outstanding event.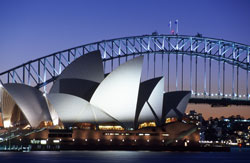 SA - South Australia
Adelaide
The sunniest city in Australia and famous for its churches, Adelaide provides elegance in its gracious Victorian and Edwardian structures with famous Adelaide lace ironwork intact. Boulevards of galleries and museums flow into the serene Botanic Gardens whilst Rundle Street and Mall is the heart of the shopping district, cafes, bars and restaurants. Superb sandy beaches lie to the west of the city. Six out of the top 10 Australian wines are made within a few hours' drive of the City.
Kangaroo Island
The third largest island off the coast of Australia, Kangaroo Island features 21 National and Conservation parks covering 30% of the island and is home to over 850 species of plants and many native animals including wallabies, goannas, koalas, sea lions, fur seals and its own species of kangaroo! Featuring delightful seafood that can be caught from rock fishing, surf fishing or boat fishing, enjoy the outdoors with many activities including abseiling, sailing or surfing or discover the marine life by snorkelling or scuba diving.
Barossa Valley
The Barossa Valley is located just one hour's drive north of Adelaide. Different micro-climates and soil characteristics enable the valley to produce a full range of wine types and styles. Mild wet winters and hot dry summers make the Barossa an ideal grape growing region. Today some 500 growers produce an average of 55,000 tonnes of grapes each vintage. In general, wines of the Valley floor are soft and well rounded, the hills produce more complex flavours better for ageing.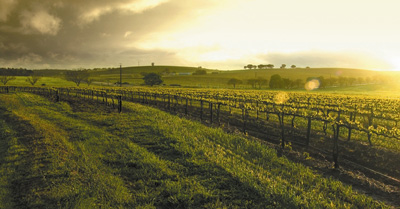 QLD - Queensland
Great Barrier Reef
One of the Seven Wonders of the World, the Great Barrier Reef is a destination not to be missed. The islands of this area provide for every type of holiday destination from the luxury of 5 star Lizard Island, to scuba divers' favourite Heron Island to camping at Hinchinbrook island. Or make the best of both worlds and hire your own luxury sail boat and cruise at leisure through this amazing piece of Australia
Gold Coast
From golden beaches to sub-tropical rainforests to glitzy nightlife, the Gold Coast has it all. Surfers Paradise is a shoppers' haven featuring everything from bikinis to Australian opals. Finish off with a cocktail in one of the many Oceanside bars or take a dip in the sun drenched beaches of the Pacific Ocean. Just a short drive inland finds you meeting many Australian native birds and animals in places such as Lamington National park.
Cairns
Cairns is the major city of tropical North Queensland. Nowhere on Queensland's palm fringed coast are you closer to the Great Barrier Reef and its islands where diving, snorkelling or reef viewing are opportunities not to be missed. Together with magnificent and ancient rainforests, preserved under World Heritage Listings, Cairns has much to offer to national and international delegates.
Brisbane
Brisbane is Australia's largest city in the subtropics, enjoying an enviable climate of hot, bright summers and warm, mild winters that makes any time of year a good time to visit.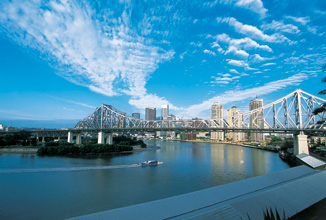 VIC - Victoria
Melbourne
Situated on the Yarra River, Melbourne is the "cultural heart" of Australia. Visitors come for its shopping, restaurants, nightlife and sporting calendar. City attractions include the bustling Queen Victoria Market, the Southgate complex including Crown Casino. A shopper's haven, there are many places to spend your money from sophisticated Collins St in the heart of the city to trendy fringe areas of Fitzroy and Richmond. Visit Brunswick Street for an overwhelming choice of Italian restaurants or St Kilda for a stroll along the beach or to sample a pastry. Hop on a tram to take it all in!
The Great Ocean Road
This magnificent coastline road stretches from Victoria's second largest city, Geelong, on the east to the border of South Australia. Visit the famous Bells Beach and relaxed country beachside towns such as Apollo Bay and Port Fairy whilst seeing amazing rock formations such as the Twelve Apostles and London Bridge. Be warned if you feel like taking a swim, this stretch of water is rather chilly!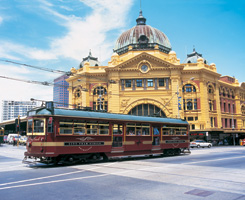 NT- Northern Territory
Uluru
Also known as Ayer's Rock, Uluru is the world's largest sandstone monolith and is a World Heritage site. For many thousands of years, this rock has been the focus for religious, cultural, territorial and economic inter-relations among the aboriginal peoples of the Western Desert Caves. Nearby is the Kata Tjuta (the Olgas), 36 steep-sided domes rising to 500 metres. The Red Centre has been weaving the same magic spell on visitors of for over 20,000 years.
Darwin
The heart of the Top End, Darwin is a tropical city with a laid-back lifestyle. The seasons are split into wet and dry with the average daily temperature between 30 and 33 degrees. Highlights include the Festival of Darwin and the Beer Can Regatta (in a river with no water!). The Mindil Beach Markets during the dry season is a must on every visitor's list, a great evening activity and an opportunity to try many delightful international foods. Visit Litchfield or Kakadu National Parks to see some native flora and fauna or with amazing waterfalls and glorious swimming holes.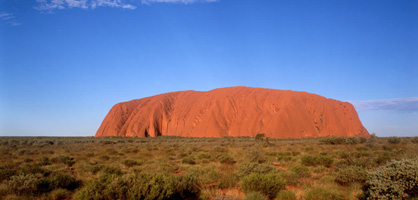 TAS - Tasmania
Australia's only island state and featuring some of the country's oldest cities, Tasmania is full of unique features from the lavender fields of Launceston to the nature walker's delight of Cradle Mountain. Try the world famous King Island cheeses and don't miss the colonial town of Richmond or Port Arthur convict settlement. The Tasmanian Devil can be seen in the Bonorong Wildlife park. Easily accessed by air or car ferry from Victoria, Tasmania is well worth a visit and is known as the "apple of Australia's eye".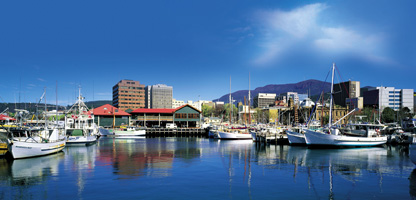 WA - Western Australia
Perth
The vibrant and modern city of Perth sits on the Swan and Canning rivers with the Indian Ocean to the west and the ancient Darling Ranges to the east. In the middle of the city lies Kings Park featuring acres of Botanic gardens with a section of natural bushland representing Perth from years ago. Just 20km to the south lies Fremantle, from where the battle of the America's Cup took place in 1987. Fremantle is the cultural centre of Perth with its café society, charming buildings, lively markets and arty ambience. Why not visit Rottnest Island, 19km off the coast of Fremantle, home to an indigenous marsupial known as the quokka (often mistaken for rats!). There is virtually no motorised traffic on the island and bicycle is the main means of transport.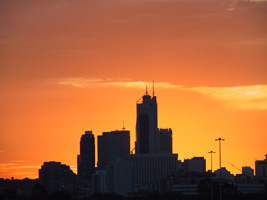 ACT - Australian Capital Territory
Canberra
As Australia's capital city, Canberra is home to many of this country's most important public buildings, artworks and institutions. Canberra is a great place to get an idea of the Aussie lifestyle. Wild kangaroos have been known to appear minutes from the city centre and a twenty-minute drive can have you watching sheep shearers at work. Australia's highest mountain, Mt. Kosciuszko, and our beautiful Pacific coastline are also only a couple of hours drive from Canberra.