Exhibition
A comprehensive Exhibition will run concurrently with the Congress, from 12-15 April 2010. This Exhibition will showcase the latest and best in Surveying and Spatial products and services and will be the largest of its kind in the Asia Pacific Region in 2010. The exhibition will attract delegates outside traditional surveying and geomatics professions and thus the exhibition will provide a larger exhibition than at previous events.
The Exhibition will provide delegates and exhibitors with excellent opportunities to network in a favorable environment that provides a central and energized meeting place for all participants.
Exhibition space at this premier event will sell quickly. Companies interested in booking space are urged to contact the Congress managers urgently to ensure prime booth position.
To download a copy of the sponsorship and exhibition prospectus, please click on the below link.
Download Sponsorship and Exhibition Prospectus (PDF FIle, 1MB)
Exhibition Opening Hours
| Date | Times |
| --- | --- |
| Monday 12 April | 1130 - 1730 hours |
| Tuesday 13 April | 0800 - 1730 hours |
| Wednesday 14 April | 0800 - 1730 hours |
| Thursday 15 April | 0800 - 1100 hours |
Floor Plan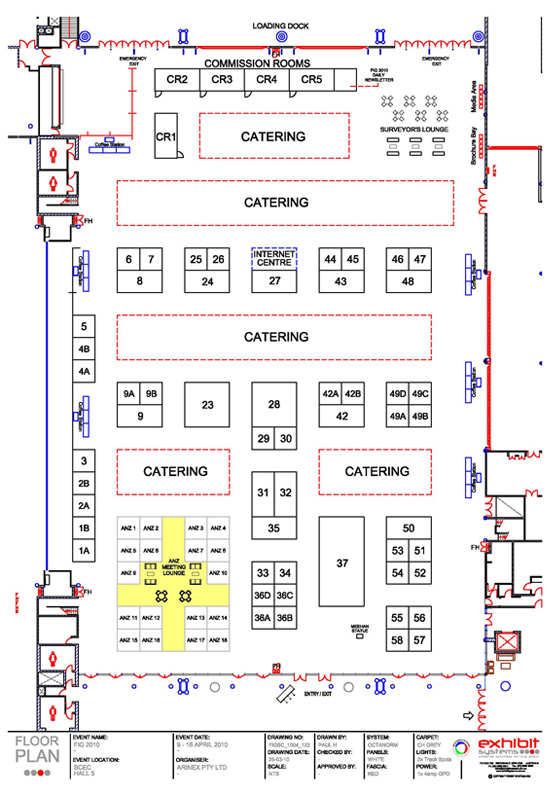 Titanium Sponsor

Platinum Sponsor

Gold Sponsor

Primary Supporter

Important Dates
Standard Registration: 8 March 2010
Late Registration: After 8 March 2010
Accommodation: Deposit non refundable at 08 March 2010
A minimum one night's deposit must be paid or credit card details given at time of booking to guarantee reservation.
Final Invitation Brochure
Please click here to view the FIG 2010 Final Invitation and Call for Papers Brochure.
Promotional Video
Please click here to view XXIV FIG International Congress - Australia 2010 promotional video
FIG Chat Room
Click here to visit the FIG Chat Room