FIG
The International Federation of Surveyors is an international, non-government organisation whose purpose is to support international collaboration for the progress of surveying in all fields and applications.
FIG is the premier international organization representing the interests of surveyors worldwide. It is a federation of the national member associations and covers the whole range of professional fields within the global surveying community. It provides an international forum for discussion and development aiming to promote professional practice and standards.
FIG was founded in 1878 in Paris and was known as the Fèdèration Internationale des Gèometres. This has become anglicized to the International Federation of Surveyors. It is a UN-recognized non-government organization (NGO), representing more than 100 countries throughout the world, and its aim is to ensure that the disciplines of surveying and all who practise them meet the needs of the markets and communities that they serve.
FIG Council members (2007-2010):
President: Prof. Stig Enemark (Denmark)
Vice-President: Dr. Dalal S. Alnaggar (Egypt)
Vice President: Mr. Matthew B. Higgins (Australia)
Vice President: Mr. G. K. (Ken) Allred (Canada) (2007-2008)
Vice President: Prof. Paul van der Molen (Netherlands) (2007-2008)
Vice President: Mr. Iain Greenway (United Kingdom) (2009-2010)
Vice President: Mr. Teo Chee Hai (Malaysia) (2009-2010)
ACCO Representative: Dr. Chryssy Potsiou (Greece)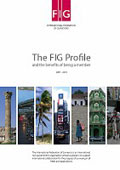 To view the FIG Profile, click here.
FIG Corporate Members
Category A - Platinum Level






Category B - Gold Level
Category C - Silver Level
BLOM ASA
COWI A/S
Grontmij nv
Magellan Navigation
Category D - Bronze Level
AED-SICAD Aktiengesellschaft
Eimar Arabia Real Estate Development Co. Ltd.
GIM International - Reed Business Information - Geo.
IGN France International
Mason Land Surveys Limited
SEDIC - Sudan Engineering and Digital Information Center
Category E - Basic Level
Derinsu Underwater Engineering Ltd.
GEO:connexion Ltd
GEOEXPERT
GeoInformatics
Geotrilho Topografia Engenharia e Projecto lda
Institut Cartogràfic de Catalunya
International Land Systems (ILS), Inc.
LKN Earth Research & Consulting
Geomatics World published by P.V. Publications Ltd
Category F - Regional Level
Associated Surveyors (Pvt.) Ltd
Cameroon Engineering S.A.
Al-Mutakamilah Real Estate (Cityplex)
Galileo Instruments, Inc.
GTZ (German Agency for Technical Cooperation)
ORBITS Engineering Firm
REIDIN.com
SEPRET (Société des Etudes de Projets et Réalisation des Travaux, S.A.R.L.)
Other Sponsorship
Den danske Landinspektørforening DdL
For more information about the FIG corporate Members, please click here.
Titanium Sponsor

Platinum Sponsor

Gold Sponsor

Primary Supporter

Important Dates
Standard Registration: 8 March 2010
Late Registration: After 8 March 2010
Accommodation: Deposit non refundable at 08 March 2010
A minimum one night's deposit must be paid or credit card details given at time of booking to guarantee reservation.
Final Invitation Brochure
Please click here to view the FIG 2010 Final Invitation and Call for Papers Brochure.
Promotional Video
Please click here to view XXIV FIG International Congress - Australia 2010 promotional video
FIG Chat Room
Click here to visit the FIG Chat Room