FIG Newsletter May 2023 - Counting down to the FIG Working Week 2023
please note:
If you cannot see the images or other content of the message properly, please
access the newsletter in your browser
International Federation of Surveyors
Fédération Internationale des Géomètres
Internationale Vereinigung der Vermessungsingenieure

FIG Newsletter – May 2023
---
Dear Colleague,
Counting down... Only few days left to the begin of FIG Working Week and General Assembly. A packed programme is awaiting with sessions, fora, a special cinema experience, meetings and activities (you can get acquainted with the FIG Climate Compass - read more in this newsletter), and we are ready to meet and greet arriving attendees. For those who will not be able to attend we are sorry that you cannot join. We know that it would have been advantageous to broadcast sessions and to meet online which we did at the e-Working Week 2021 and in 2022 where parts were available online. However finances did not allow us. Instead, in this newsletter you can learn more about blended learning! FIG Commission 2 and 7 are organising a joint annual event, and read on because there are several interesting announcements; from Aubrey Barker Fund and Property Research Trust. Maybe something for you?
For those coming to Orlando; let the magic begin... for all others we wish you magic days where you are.

---
NEWS FROM FIG
The 46th FIG General Assembly will include the Work Plans of FIG Council and Commissions, four new task forces, and two member associations have submitted bids for the FIG Working Week 2027. Participate in the FIG General Assembly which takes place in Orlando, Florida, 28 May and 1 June. Member associations: have you registered your official delegate appointed to vote on behalf of the association?

Read more about the General Assembly
Go directly to the agenda
---

Counting down... FIG and the local organisers from NSPS are looking forward to welcoming you in Orlando to the FIG Working Week 2023. FIG, NSPS and local representatives from Florida are awaiting attendees to come from all over the world.
Opening Ceremony
On Sunday 28 May after the FIG General Assembly the Opening Ceremony will begin at 16:30 and will mark a festive start of some hectic and hopefully inspiring conference days. In the following days a packed programme is waiting for you.
Key-note speakers at the opening ceremony:
Diane Dumashie,
FIG President

Serving Society, Benefitting
People and the Planet:
TACKLING THE GLOBAL CHALLENGES

Beverly Hart Jones,
PSM

SURVEYING "PROJECT X"
The Boundary Survey for a secret land acquisition that became Walt Disney World

Read more
Technical program
The three plenary sessions will be the highlight of the technical programme of the FIG Working Week Monday 29 - Wednesday 31 May 2023. These high level presentations and panel discussions will cover topics within the overall theme "Protecting our World, Conquering New Frontiers".
The rest of the days are packed wits sessions, meetings, fora and other activities - and do not miss the cinema.

Read more about the plenary sessions


The technical programme is available on the web site.
Many exciting experiences are awaiting you during the Working Week, in and around Orlando:
Several pre-event options
Three conference days on 29-31 May with a packed techincal programme
Networking opportunities
Special plenary sessions setting the scene of each day
Spectacular Working Week Dinner
Do you play golf? Or what about joining the Cornhole game

Read more about the Working Week and what to expect, and register at www.fig.net/fig2023
Special thanks to our sponsors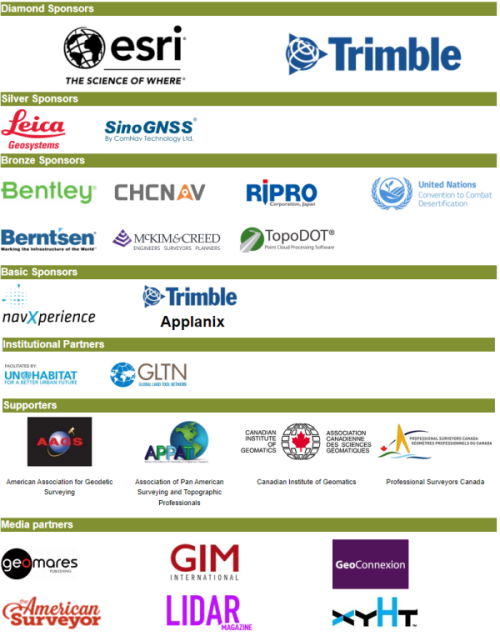 Follow the Working Week on FIG Social media:
---
NEWS FROM FIG
FIG Commission 2 and 7 are inviting to their joint annual meeting 2-4 October 2023 at the Locatie Punt, Deventer (Overijssel), hosted by the Netherlands Cadastre, Land Registry and Mapping Agency (Kadaster) and ITC, University of Twente.
Read more abut the event
---
Aubrey Barker Fund: CALL FOR NEW TRUSTEES
The Aubrey Barker Fund is dedicated to enhancing sustainable survey and land management skills in developing countries through professional education and capacity building for the lasting benefit of local communities. They work to support the development of necessary survey and land management skills, and to ensure that they are available in all nations and communities; alongside encouraging and facilitating the sharing of these skills and knowledge with communities so that we increase our collective capacity to manage our key asset: our land. The Fund celebrated its 50th anniversary in 2022.
They used this milestone to review their vision and strategy and, as a result, they are now seeking additional Trustees.
Deadline is 15 June 2023
Read more (pdf)
Info and expression of interest form in word

---
Invitation to Tender for a Research Grant
The Property Research Trust is an independent charity, legally based in the UK but with trustees from countries around the world and with global interests. They commission research reports which are robust, independent and focused on the notions of public good and social responsibility within the built and natural environments.
They are seeking to attract bids from researchers who apply a combination of at least two of these themes to the sustainability debate. In particular, they are looking to fund research that can assist actors in the real estate industry (constructors, investors, developers and designers) to consider, in practical ways, how they will respond to the increasing array of targets and obligations pertaining to the net zero agenda.
Closing date for applications is Friday 14 July 2023 at 1700 GMT
Read more (pdf)
Info and expression of interest form in word

---
ARTICLE OF THE MONTH - May 2023
The article of the month in May 2023 is a recording of the FIG Congress 2022 Keynote: Mapping the Plastic. Gordana Jakovlejvic and Simon Ironside speak about plastic pollution and the process that will enable the accurate mapping and classification of floating plastic. Learn more about their developed world leading methodology to accurately extract floating plastic data (as small as 1.0 cm in length) from multi-spectral UAV images using artificial intelligence deep learning algorithms.
Read the article

---
NEW PUBLICATION
This publication aims to assist the FIG community with a summary of lessons learned from the COVID pandemic emergency remote teaching and provides some guidance on good practices in implementing blended learning in surveying education.
Read more


---
COMMISSION NEWS
Newsletters:
---
FIG FOUNDATION GRANTS
Current open grants:
Please check the requirements carefully before applying for a grant.
---
---
UPCOMING EVENTS
Check the events page
10-13 May 2023, Oradea, Romania
"Modern Surveying Technologies for 3rd Millennium" is the theme for the fourth edition of the Romanian Surveying Week, a joint event with CLGE General Assembly, 12-13 May, 2023. The international symposium is organized by the Romanian Surveyors Union in collaboration with The Romanian Association of Private Surveyors and Faculty of Constructions, Cadastre and Architecture, from University of Oradea."
Web site: http://www.sgr.ugr.ro
28 May - 1 June, Orlando, Florida USA

FIG Working Week 2023
Web site: www.fig.net/fig2023

27-28 June 2023, Beijing, China
2023 Geospatial Information Software Technology Conference (GIS TECH 2023) hosted by Geographic Information System Technology Innovation Center of Ministry of Natural Resources of the People's Republic of China, supported by FIG Website:
5-7 July 2023, TU Delft, Netherlands
CAAD Futures 2023 - INTERCONNECTIONS: Co-computing beyond boundaries
Abstract submission - deadline 17 June 2022
Web site: www.caadfutures2023.nl
2-4 October, Deventer The Netherlands
FIG Commission 2 and 7 Annual Meeting:
More information
---
Kind regards,
Ms. Louise Friis-Hansen
Director
International Federation of Surveyors
Fédération Internationale des Géomčtres
Internationale Vereiningung der Vermessungsingenieure
International Federation of Surveyors
Kalvebod Brygge 31-33
DK-1780 Copenhagen V
Tel. + 45 3886 1081
Direct: + 45 9391 0810
louise.friis-hansen@fig.net
www.fig.net
FIG Working Week 2025, Brisbane, Australia
FIG Congress 2026, Cape Town, South Africa
FIG Working Week 2028, Paris, France - CELEBRATING FIG 150 ANNIVERSARY
Subscribe monthly FIG Newsletter
---
FIG on Social Media:





If you have not already joined, join us today...
---
The monthly Newsletter is mailed to all members, commission delegates and all interested partners. FIG offers the Newsletter to all members of member associations and other interested in FIG. If you don't already get your copy you can order it now at: www.fig.net.

FIG Newsletter brings you latest information about FIG and its activities. The information referred here is in full length available on the FIG web site. Thus the Newsletter is produced to inform you what has happened recently and what interesting things are going to take place in the near future. The FIG Newsletter is circulated monthly or bi-monthly by e-mail. The referred articles are in English and written in a way that you are able to extract them to your national newsletters or circulate to your members and networks.

If you do not want to receive the newsletter in the future, please click here to unsubscribe from the mailing list
.
---