PLENARY SESSIONS
The three plenary sessions will be the highlight of the technical programme of the FIG Working Week and will take place 9:00 - 11:00 in the Grand Ballroom each of the days 29-31 May 2023. These sessions will cover topics from the FIG Council Work Plan and the overall theme of the Working Week.
A sustainable agenda for planet and people is a universal agenda. And if we are to achieve economic, social and technological progress it is an imperative that this occurs in harmony with nature. As survey professionals from the land, built and natural environments and geospatial sector, have a key role around the world we to lead and contribute to make this sustainable development agenda happen.
Protecting our World, Conquering New Frontiers is the overall theme of this year's FIG Working Week that will be held in Orlando Florida over three conference days on 29-31 May.
This theme is intended to inspire surveying and geospatial professionals in land management, land survey and land administration and to seek to expand our presence through technology, experience, collaboration, and good will for a better tomorrow. As our world and climate changes around us, we aspire to leverage our knowledge base and tools for measuring, monitoring, and forecasting how to improve the outlook for our future generations. The theme is strategically aligned with the United Nations 2030 Sustainable agenda as articulated in the sustainable Development Goals (SDG).
The conference theme draws upon the FIG vision to serve People, Planet and working in Partnership for societal benefit. This will be reflected in the three plenary sessions that will be setting the scene for each of the three conference days.
Interprenet will provide simultaneous instantaneous interpretation remotely over the Internet using mobile phone application. They will provide Spanish interpretation for the Plenary Sessions.
The QR code will take you directly to the App. To access use the unique token FIGww2023. You can download the app through App Store (iOS or Android) and then it will automatically open the respective token.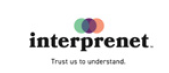 User Guide for Interprefy Smartphone App
Connect to the WiFi network.
Download the Interprefy App.

Plug-in your headphones.
Enter the event token & select "Connect".
Choose your language and enjoy.
Monday, 29 May 9:00 - 11:00 Hilton/Waldorf Bonnet Creek Ball Room
PROTECTING OUR WORLD
The first plenary session on Monday 29 May [draws from Planet] will focus on Protecting our World, in which especially the relationship between climate change and sustainable development will be on the agenda. The climate focus is now the foundation of sustainability and underpins everything we do in our professional work. Unpacked by key note speakers they will relate this to land and the role surveyor's can lead in land management, land administration and geospatial context that enables us to understand how we can take urgent action on climate change, so that it can support the needs of the present and future generations.
Speakers
Keynote presentation by
Clarissa Augustinus, UNCCD

THE GLOBAL LAND OUTLOOK AND PROTECTING OUR PLANET
Global land trends and future scenarios and the role of surveyors in protecting our planet.
Clarissa holds a Ph.d in Social Anthropology from Rhodes University (South Africa) and has for many years been working for UN-Habitat. Clarissa was Founder and Lead on the Global Land Tool Network, GLTN. She was appointed Honorary Ambassador of FIG for her extraordinary engagment with FIG especially whie she was Lead of GLTN. Today, Clarissa is Co-coordinator and co-editor of United Nations Convention to Combat Desertification.
Keynote presentation by
Victoria Stanley, World Bank

HOW DOES THE WORLD BANK SEE LAND AS INTEGRAL TO ADDRESSING CLIMATE CHANGE
Victoria Stanley is a Senior Land Administration Specialist at the World Bank. She has worked in more than 25 countries across Africa, Eastern Europe, Central Asia, and Latin America and across a wide range of issues including land reform, land administration, land governance and land policy. VIctoria's current focus of work is on women's land rights and gender inclusion across urban and land issues. Prior to joining the World Bank Ms. Stanley worked for several NGOs on research and development issues. Ms. Stanley has a Master of Public and International Affairs from the University of Pittsburgh Graduate School for Public and International Affairs and a Bachelor of Arts from Cornell University.
Keynote presentation by
Brent Jones, ESRI

MAPPING A SUSTAINABLE FUTURE IN THIS NEW ERA OF UNDERSTANDING
We are not on the same planet that we were born into. We are permanently in times of great change. We can no longer use traditional isolated methodologies or organizational approaches. Collectively, can forge a path towards a more sustainable and equitable world.
Brent Jones oversees Esri's worldwide strategic planning, thought leadership, and marketing activities for land records, cadastre, surveying, and land administration. As a recognized innovator, Brent specializes in modernizing existing land administration systems and designing new GIS-based cadastral management systems for small and large governments globally. He is a licensed professional land surveyor and engineer, NSPS Fellow, past president of URISA (Urban and Regional Information Systems Association), past president of GITA (Geospatial Information and Technology Association), co-inventor of the geoblockchain, and a past member of the UNGGIM-LAS United Nations Committee of Experts on Geospatial Information Management sitting on the Expert Group on Land Administration and Management, and now soon also an Honorary Member of FIG.
Chair
Mr. Simon Ironside, New Zealand
Tuesday, 30 May - 9:00 - 11:00 Hilton/Waldorf Bonnet Creek Ball Room
CONQUERING NEW FRONTIERS
Mankind has forever embarked on progressing through and finding new frontiers. Our professional members throughout the generations are no different- we were all the future at one time. Interpretations of the new frontiers from our key note speakers are considering smarter working in digital transformation and impact of geospatial infrastructure, space research and development In addition, hearing perspectives from our young surveyors in relation to what this means them, and what it means to be at the forefront of the current generational frontier as well as upcoming generations yet to choose surveying as their profession.
Speakers
Keynote presentation by
Russell Romanella, NASA – United States National Aeronautics and Space Administration (retired)

NASA – EXPLORATION FOR OUR FUTURE
Russell Romanella explores the current Human and Robotic Exploration Missions within NASA. He explores NASA's exploration of the solar system and beyond including Mars, Saturn, the asteroid belt, and NASA's plan to return to the Moon and on to Mars.
Mr. Romanella had over 30 years of NASA experience. He had many leadership positions at the Kennedy Space Center during his career including International Space Station and Spacecraft Processing Director, Associate Director for Engineering and Technical, and most recently, prior to his retirement, Director of Safety and Mission Assurance. Mr. Romanella joined NASA in 1982 as a student intern while attending Florida State University where he received his degree in Mathematics and Computer Science. Mr. Romanella's broad range of experiences include Artemis - NASA's new lunar exploration program, the International Space Station, and many of NASA's non-human exploration programs such as robots on Mars, and the Hubble and James Webb Space Telescopes. Mr. Romanella has received numerous achievement and performance awards including NASA's Exceptional Service Medal, the Center Director Award, and the Presidential Rank Award for his leadership in preparing Space Station elements for launch from the Kennedy Space Center.

Keynote presentation by
Bryn Fosburgh, Senior Vice President, Trimble

IS THE NEW FRONTIER AI, DIGITAL TWINS, AND THE METAVERSE?
Is the new frontier AI, Digital Twins, and the Metaverse and do these capabilities form the Holodeck of the future for Geospatial professionals
or
are they simply a set of tools no different than GNSS, optical instrumentation, or EDMs from our past. It is our profession that needs to decide which reality - real or imagined - these tools provide.
Bryn Fosburgh is a Senior Vice President at Trimble and is currently the Advisor to the CEO.
Since 1994, Bryn has been involved and led Trimbles Geospatial, Construction, Transportation
and Logistics (T&L), and Agriculture Sectors. Bryn is the founding member of Trimbles joint
ventures with Caterpillar, Hilti, and Nikon and has spent over twenty years on those joint
venture boards. Bryn is also the founder of Trimbles consolidated construction and T&L
businesses and has had direct responsibility for managing the profit and loss centers at Trimble
which were greater than billion dollars in revenue. Prior to Trimble, Bryn worked nearly 10
years in the Federal and State Government at the Wisconsin Department of Transportation, U.S
Army Corps of Engineers, and Defense Mapping Agency (DMA). Bryn received a Masters of
Science in Civil Engineering at Purdue University and a Bachelor of Science from University of
Wisconsin Green Bay. Bryn was awarded the Purdue University civil engineering alumni
achievement award and inducted into the Association of Equipment Manufacturers (AEM) Hall
of Fame. Bryn has been a supporter of the FIG Foundation since its inception and passionately
supports the FIG young surveyors network through mentorship and educational and
philanthropic efforts. Now soon FIG Foundation President, too.
Keynote presentation by
Mickey Ng Nok Hang, Young Surveyors Network

SMARTER WORKING IN DIGITAL TRANSFORMATION

A perspective of the younger generation
Mickey is a Geospatial Surveyor Land Surveyor currently working in Hong Kong with near 10 years of working experience on geospatial data management. He works in the Remote Sensing Data Analysis Section (RSDA), Lands Department, HKSAR. Through a combination of technological innovation and new ways of thinking, Mickey has adopted a different and more profound approach in the widespread of aerial, land and engineering survey projects.
Inspirational talk by
GET KIDS INTO SURVEY
Chair
FIG Vice President Mr. Kwame Tenadu, Ghana
Wednesday, 31 May - 9:00 - 11:00 Hilton/Waldorf Bonnet Creek Ball Room
TACKLING THE GLOBAL CHALLENGES
Surveyors have much to contribute in society and to highlight, advocate and above all act to ensure change that builds on a sustainability agenda. In this plenary our key note speakers will elaborate further on selected challenges that is at the forefront of thinking and highlighted in some of the FIG commission working groups. Driven by the need for sustainable development and fit for the future, this includes: an introduction to the new Reference Frame system/Datum that is being introduced in the US and which is leading up to a special National Geodetic Survey Day/Track (NGS); Disaster responsiveness highlighting the sustainability of island states given the challenges that the Small Islands are facing (which will also be a special topic in the technical sessions); and technological sustainable applications for the development of urban areas.
Speakers
Keynote presentation by
Juliana P. Blackwell, Director, National Geodetic Survey, National Oceanic and Atmospheric Administration, NOAA

THE MODERNIZED U.S. NATIONAL SPATIAL REFERENCE SYSTEM - ALIGNING NATIONAL GEOSPATIAL DATA TO THE GLOBE
The Theme for this Working Week is "Protecting Our World, Conquering New Frontiers." To achieve this, geospatial data from many different sources must be interoperable and defined within a modern, accurate, inclusive reference frame. The National Oceanic and Atmospheric Administration's (NOAA) mission to understand and predict changes in climate, weather, ocean and coasts also includes a mandate to define, maintain and provide access to the National Spatial Reference System (NSRS). Tracing roots back to the first federal scientific agency in the United States, NOAA's National Geodetic Survey (NGS) enables mapping and charting and provides the framework for positioning in the U.S. through the NSRS. The NSRS modernization, underway for a decade and nearly complete, will align the critical U.S. geospatial data assets within global data inventories and enable improved analysis and modeling of climate changes and impacts to society and the environment. The modernized NSRS enables data integration of new and old technologies, adopts modern standards and empowers growth in new fields and applications.
Juliana oversees the management and delivery of the National Spatial Reference System, the nation's consistent coordinate system for latitude, longitude, height, gravity measurements and shoreline. Ms. Blackwell serves as Chair of the Federal Geodetic Control Subcommittee of the Federal Geographic Data Committee, exercising government-wide leadership in the development and improvement of geodetic surveying specifications, methods, instrumentation, and data transfers. She is a member of NOAA's Hydrographic Services Review Panel, a federal advisory committee providing advice to the NOAA Administrator on matters related to hydrographic services. She represents NOAA on the interagency Alaska Mapping Executive Committee and the 3D Elevation Program Executive Forum and serves as Vice Chair of the Civil Applications Committee.
Keynote presentation by
Simone M. Lloyd, GISP, Principal Director, National Spatial Data Management Branch Jamaica

LAND ADMINISTRATION AND LAND MANAGEMENT ROLE IN TACKLING DISASTER MANAGEMENT / SEA LEVEL RISE
with a special focus on sustainability of island states (SIDS)
Simone is an internationally certified geospatial professional (GISP), project manager, educator and trainer with a wealth of over 15 years' experience contributing to the development of Jamaica's geospatial landscape. She currently serves as the Acting Principal Director within the National Spatial Data Management Branch of Jamaica's Ministry of Economic Growth & Job Creation. Her main responsibilities include directing daily operations, coordinating national geospatial projects, policies, events, training and education initiatives and programmes, including coordinating the National Emergency Response GIS Team (NERGIST). She currently serves as Jamaica's Focal Point and Head of Delegation to the United Nations Global Geospatial Information Management (UN-GGIM) Group of Experts and its Americas Regional Committee and Caribbean Vocal to the UN-GGIM
Keynote presentation by
Dustin Parkman, Vice President, Transportation, Bentley Systems

INFRASTRUCTURE DIGITAL TWINS ACCELERATING THE TRANSITION TO SUSTAINABLE, SOW-CARBORN, RESILIENT INFRASTRUCTURE
Bentley's vision is influenced by the unprecedented transformation that will have to happen in the next few years to achieve sustainable development goals and future-proof the world's infrastructure. Infrastructure digital twins will be an essential enabler and accelerator in this journey. Infrastructure digital twins and sustainable development go hand in hand.
Dustin Parkman is Vice President of Transportation at Bentley Systems. He has held several senior product and business development positions throughout his career and has specialized in developing products and solutions that service the infrastructure industry. Parkman has degrees in computer science and economics and has dedicated his career to creating technology that allows engineers, contractors, and owners to automate the construction and operation of infrastructure.
Keynote presentation by
Andrew Hurley, Global Commercial Manager, Leica Geosystems

IS OUR WIDER COMMUNITY TAKING ESG ON BOARD?

Environmental, Social, and Governance (ESG) and business trends improving value to society
With more than 30 years of experience in Geomatics, Andrew Hurley serves as Hexagon's Geosystems Division Global Commercial Manager for U.S. Canada, MexAm and ANZ. He is responsible for driving and developing the company's business strategy and new business models across all product lines / solutions and segments including total stations, GNSS and reality capture.
Prior to his current position, Hurley was the Business Manager with P&L responsibility P&L for Geomatics in the US and Canada. In this position, he developed and executed strategies to keep the company's regional operations on the leading edge as a technology innovator and premier solutions provider in surveying, engineering and other fields that require accurate measurement and precise positioning.
After graduating with Honours in 1987 from the Dublin Institute of Technology with a H-Dip in Geo-Surveying, Hurley practiced land surveying for nearly a decade in the United States, Saudi Arabia, Ireland and the United Kingdom before returning to the U.S as a support engineer with Leica Geosystems in 1994. During his 25-year tenure with the company, he has held a variety of increasing challenging roles.
Chair
FIG Vice President Mr. Mikael Lilje, Sweden