Working Group - Joint Commission 7, 8 and 9
Urban Challenges
Introduction
According to the United Nations (United Nations, 2018. World Urbanization Prospects: The 2018 revision) urbanization prospects, by 2050 68 % of the world's population will be living in urban areas. To ensure a sustainable development and ensure access to services for all, including the vulnerable, requires considerable effort from all involved. It touches upon themes such as urban resilience (social well-being, health, services, climate), informal settlements, affordable housing and financial sustainability among others.
Policy Issues
Scope and analyse current and future challenges for communities in small, medium, large, and megacities, in terms of urban resilience, climate change, housing and informal settlements, and fiscal health.
Investigate principles of traditional tribal communalism and understand how those principles can be successfully reintroduced into contemporary residential development.
Explore current practices around the globe for tackling urban housing issues and combine existing research which forecast future practices.
Investigate critical success factors of existing high-density living arrangements (environmental, social, legal, etc).
Contribute to the dissemination of best practices of how spatial planning can contribute to address the present and future urban challenges.
Investigate the potential contribution of land-based finance to addressing these urban challenges.
Develop an audit tool for the assessment of sustainable municipal finance, fiscal health and land-based value capture tools in relation to the urban challenges.
Posit alternative future design models and provide guidance for governments, municipalities, communities and professionals on incorporating these models into current practises for sustainable, spatially informed, and sociable city-living.
Chair
This WG will be led by a chair from each involved commission, together collaborating on the proposed activities:
Commission 7:
Commission 8:
Commission 9:

Erwin van der Krabben
the Netherlands
e.vanderkrabben[at]fm.ru.nl

James Berghan
New Zealand
james.berghan[at]postgrad.otago.ac.nz

Claire Buxton
New Zealand
clairelouisebuxton[at]gmail.com
Special Projects:
Vertical villages: A sense of community in high-density living environments. Building sociallybased land tenure in spatial planning. Focus on urbanized areas, in particular high rise buildings.
Ecology of community: Incorporating socially-based tenure principles into contemporary urban residential development.
Land based financing and land value capture is one of the key elements of the new urban agenda
Development of audit tool for municipal fiscal stress and land-based value capture tools for climate change investments
What we are working on -

Working paper with best practices of spatial planning contributions to addressing global urban challenges
Working paper with innovations in municipal (land-based) financial tools for sustainable urban development
What's New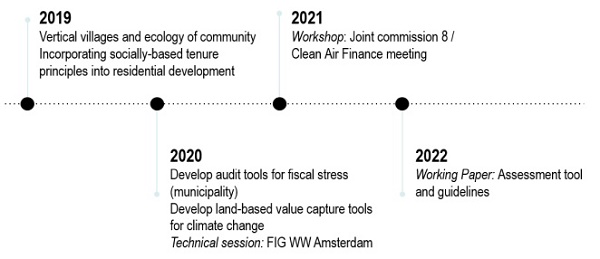 A special session at FIG Working Week 2020 was organised to further elaborate and discuss the topic:
Urban Challenges: Creating Sustainable Community with Density - Socio-technical Presentations and Discussion
To hear examples and best practice from around the globe about building up (instead of out) and how a sense of community is maintained. Then to discuss a way forward for Working Group 8.3.
Claire Buxton (Canada):
Experience Versus Expectation - The Effect of Land Development Professionals' Decisions on Sense of Community, Sense of Place, and Flexibility of Tenure (10340)
[abstract] [paper]
Franka Grubisic (Croatia):
Bridging the Social-Technical Gap: Creating Not Only Resilient and Sustainable Cities, But Resilient and Sustainable Societies (10616)
[abstract] [paper]
Robert W. Foster (USA):
The Mega Cities, the Smart Cities, the Sustainable Cities (10586)
[abstract] [paper]
Frank Friesecke (Germany):
How to Create Affordable Housing in Growing Cities? New Directions for Land Regulations and Housing Policy in Germany (10245)
[abstract] [paper]
Elzbieta Bielecka and Beata Calka (Poland):
Access to Green Public Spaces in Warsaw. Spatial and Statistical Analysis. (10407)
[abstract] [paper]
Matthieu Zuidema, Peter Merx and Marion Plegt (Netherlands):
Municipalities and Urban Development, During and After the Crisis (10488)
[abstract] [paper]
Michael Dela Ahey (Ghana):
Affordable Housing in Ghana Using Community Land Trust (10636)
[abstract] [paper]
El Idrissi Abdelwahed (Morocco):
Urban Land in Morocco: Legal-Institutional Dysfunctions and Mitigation Measures (10701)
[abstract] [paper]
Isah Funtua Abdulkadir, Y.Y Babanyara and Mustapha Kyari Manga (Nigeria):
Geospatial Distribution's Pattern and People's Perception of Green Spaces in Bauchi, Nigeria (10583)
[abstract] [paper]