Report on GeoPrevi 2018 International Symposium-Geodesy for Smart Cities
29-30 October 2018 Bucharest, Romania
Geo PreVi 2018 Symposium "Geodesy for Smart Cities" took place in Bucharest, Romania on 29-30 October. The technical program was mainly organised by FIG Commission 5, 6 and 10. More than 120 participants from 14 countries attended this seminar.
FIG Commission 5 supported several young surveyors from Romania and abroad. Mr. Mudit Kapoor from India (Indian Institute of Technology Roorkee) as well as Mr Gheorghe Tintari and Ms. Loredana Stoica from Romania received the grants.
---
References Frame in Practice Seminar - Operational Aspects of GNSS CORS
18-20 September 2018, Suva, Fiji
In conjunction with FIG Asia Pacific Capacity Development Network partners namely the Fijian Government - Ministry of Lands and Mineral Resources, Pacific Geospatial and Surveying Council (PGSC), the UN GGIM AP, FIG Commission 5, and the Pacific Geospatial & Surveying Partnership Desk – Pacific Community, a Reference Frame in Practice Seminar on Operational GNSS CORS will be held in Suva, Fiji 18-20 September 2018. The objectives of this event are to provide technical advice on the operational aspects of GNSS CORS infrastructure, to build a sustainable and modernised geodetic reference frame and datum, and also develop the capacity of surveyors in the discipline of geodetic surveying. Presently there will be over 20 presentations comprising of local and international speakers, with almost 100 delegates registered! FIG and development partners wish to thank Lecia Geosystems for their support.
---
Commission 5 grants to Young Surveyors - Geo PreVi 2018
Geo PreVi 2018 Symposium "Geodesy for Smart Cities" will take place in Bucharest, Romania 29-30 October. The technical program is mainly organized by help of FIG Commission 5, 6 and 10 dealing with Positioning and Measurement, Engineering Geodesy and Construction Economics and Management. Web site: https://geoprevi.xyz/
The organizing committee will support young surveyors from Romania and abroad.
Young surveyors from outside Romania that will submit an article and give a presentation can be granted by maximum 400 € to support travelling, accommodation and registration fee. If you are interested please send your application including a CV, the title and the abstract of the presentation as well as a motivation letter to Volker Schwieger volker.schwieger@iigs.uni-stuttgart.de and Li Zhang li.zhang@iigs.uni-stuttgart.de . Additionally you have to register at the mentioned website. We will award minimum two grants.
Romanian young surveyors that will submit an article and give a presentation will be granted for the registration fee of 30 € on-site. Please apply by sending a CV, the title and the abstract of the presentation to Ana Cornelia Badea anacorneliabadea@gmail.com and Aurel Negrila negrilaa@yahoo.co.uk. We will award up to fifteen grants.
---
Commission 5 Newsletter - July 2018
Read the latest Newsletter from Commission 5 that also includes report from the FIG Congress 2018.
---
Commission 5 at FIG Congress 2018
Istanbul, Turkey 6-11 May
The commission chairs of the term 2019-2022 were elected at the General Assembly held in conjunction with the FIG Congress in Istanbul. Mr. Dan Roman from United States was elected at chair of FIG Commission 5. His term starts 1.1.2019.
FIG Commission 5 was actively involved during the FIG Congress 2018 in Istanbul, Turkey.
Steering Commitee Meeting
[minutes]

Report on the Technical Seminar on Reference Frames in Practice held in conjection with the FIG Congress
The Technical Seminar on Reference Frames in Practice was held in Istanbul on 4-5 May 2018. The main focus was on reference frames in general, kinematics and dynamic datums which reflects geodetic priorities for all regions suffering from natural disasters such as earthquakes. Participants mostly come from countries where there is a strong need to model deformation to maintain their accurate spatial reference frames. So, this Seminar has been a good platform to share knowledge and resources for their mutual benefits.
The Seminar was organised by FIG Commission 5, in conjunction with the International Association of Geodesy (IAG), the United Nations International Committee on GNSS (UN ICG) and the Turkish Chamber of Survey and Cadastre Engineers (HKMO).
---
Forthcoming FIG Commission 5 events
GEOPREVI 2018, Geodesy for Smart Cities, Joint Seminar of FIG Commission 5, 6 and 10 Symposium
Bucharest, Romania, 29-30 October
The GeoPreVi 2018 is a scientific event of the Faculty of Geodesy - Technical University of Civil Engineering Bucharest and will be organized this year in cooperation with FIG Commissions 5, 6 and 10, Romanian Surveyors Union and Romanian Association of Private Surveyors.
GeoPreVi 2018 is continuing the previous year collaboration with FIG. This year, International Symposium GeoPreVi 2018 is inspired by the theme Digital Geodesy for Smart Cities focusing on general topics like reference frames, positioning, surveying and Building Information Modelling.
We are sure that GeoPreVi 2018 will create the professional frame and environment for discussions, exchanging knowledge and experience among surveyors, geodesists and other professionals. Still it is one more opportunity to enhance the awareness regarding our profession in Romania, Europe and worldwide.
International Symposium GeoPreVi 2018 gives to the participants the opportunity to present papers, debate and communicate in a professional and scientific manner highlighting their own contribution finding out technical solutions and new researches in order to identify the social, technical and environmental benefits.
The Faculty of Geodesy, that merges the traditions and excellence in Romanian surveying academic education, together with its outstanding event initiators and co-organizers professional associations, members of The International Federation of Surveyors - the premier international organization that is supporting the interests of surveyors worldwide and covering the whole range of professional fields within the global surveying community have agreed to focus to very important challenges of the nowadays Romanian society such as positioning and measurement, engineering surveys, construction management.
For more information, please visit https://geoprevi.xyz/
10th Multi-GNSS Asia (MGA) Conference
23-25 October 2018 at RMIT University in Melbourne, Australia.
The Multi-GNSS Asia (MGA) is an international cooperative initiative endorsed by the United Nation International Committee on GNSS to promote cooperation and utilisation of satellite positioning, navigation and timing services in Asia and Oceania. With the 2018 MGA Conference theme "Creating Solutions, Driving Innovation, Connecting Industry", the event will present an informative program showcasing the latest advancements in GNSS technology and applications, innovative satellite positioning and navigation solutions, as well as connecting industries to explore new business cooperation in GNSS services, products and applications. MGA aims to expand the impact of navigation satellite technology right across our economy. Also, the program will include a facilitated networking event, open forums to discuss future collaborations and a young professionals and students event.
For mroe information, please visit: https://2018.mgaconference.com.au/
---
The deadline, the 1st October, for papers to be peer-reviewed for the FIG Congress Istanbul Turkey in May next year is approaching
The FIG Commissions 5 and 6 have an agreement with the Chief Editor of the Journal of Applied Geodesy: after the Working Week the best peer-reviewed scientific papers can be published in a special issue of this journal.
We hope to give researchers and scientists from all around the world an additional motivation to attend the FIG Congress, and at the same time the opportunity to publish their valuable research results in a well-known Journal.
The process will be as follows:
you have to include your paper into the FIG peer-review process
the paper is successfully accepted and rated by the reviewers as well as and presented at the Working Week
the commission officers will decide on the base of the reviewer ratings about the scientific quality of the paper
the authors of the best papers will be contacted by the Commission chairs, if they are willing to publish in the Journal
the peer-review process of the Journal of Applied Geodesy will start
Ivo Milev
Chair Commission 6
Volker Schwieger
Chair Commission 5
---
One day meeting on "Regional Challenges, Benefits and Opportunities of Exchanging Geodetic Data"
The Geospatial Information Authority of Japan (GSI) , FIG Asia Pacific Capacity Development Network, and the UN Global Geospatial Information Management for Asia and the Pacific Working Group 1 are jointly hosting a one day meeting on "Regional Challenges, Benefits and Opportunities of Exchanging Geodetic Data" on 16 October 2017, at the Kumamoto City International Centre in Kumamoto Prefecture, Japan.
This meeting with United Nation Asia Pacific country member delegates will workshop -
the social, technical, environmental and economic benefits and opportunities of accessing and sharing geodetic data;
open geodetic data and access policies;
geodetic data / licencing agreements; in particular the UN-GGIM Compendium on Licensing Geospatial Information;
the state of play of geodetic data sharing in Asia;
geodetic data that should be shared and accessible; and
examine solutions to challenges, impediments and the way forward.
For more information about this meeting please navigate to - https://gsi-intl.github.io/ggim-ap-kumamoto/
Please note this meeting will be convened prior to the UN GGIM AP Plenary Meeting 17-19th October 2017 - http://www.un-ggim-ap.org/meetings/pm/6th/201707/t20170704_389286.shtml
Chair of the Asia/Pacific Regional Network, Rob Sarib would appreciate to get comments or information about geodetic data sharing from our Commission 5 Delegate. For example – case studies from different countries, challenges, the benefits of data sharing, open data, policies etc. You support would be appreciated.
Read more about the FIG Asia/Pacific Network: http://www.fig.net/organisation/networks/capacity_development/asia_pacific/index.asp
---
Reference Frame in Practice Seminar
29-30 July 2017, Kobe, Japan
The Reference Frames in Practice (RFIP) series has been in operation since May 2012 and this year's seminar was convened in Kobe (Japan) on 29-30 July 2017. The seminar venue was the Kobe Chamber of Commerce - Port Island, and was hosted by GSI - Geospatial Information Authority of Japan. A special thanks to Mr. Basara Miyahara and his team at GSI for their great hospitality.
Like previous seminars this RFIP was well attended. It attracted 68 delegates from 19 different countries. From a program perspective, there were 21 quality presentations which included 4 presentations from the event sponsors who provided a manufacturers perspective on the issues and challenges relating to geodetic reference frames.
The seminar's objective was to provide fundamental geodetic reference frame background, concepts and examine the associated data and analysis techniques, each with a focus on practical implementation and application.

---
Newsletter - July 2017
Commission 5 Newsletter July 2017 - incl. Commission 5 report from FIG Working Week 2017 in Helsinki, Finland

---
Cost Effective Positioning and Geo Data Seminar
20 April 2017, Novosibirsk, Russia
The Seminar was organized by FIG Commission 5. It was held within the frame of the XIII International Exhibition and Scientific Congress "Interexpo GEO-Siberia 2017" in Novosibirsk. The primary objective of the Seminar was to shape a vision for the future of cost-effective positioning technologies. The seminar was aimed at bringing developers of precise low-cost solutions, surveyors, and other potential users together.
---
Commisson 5 at the FIG Working Week 2017 in Helsinki, Finland 29 May - 2 June
Commission 5 had its annual meeting during the FIG Working Week 2017 in Helsinki, Finland 29 May - 2 June 2017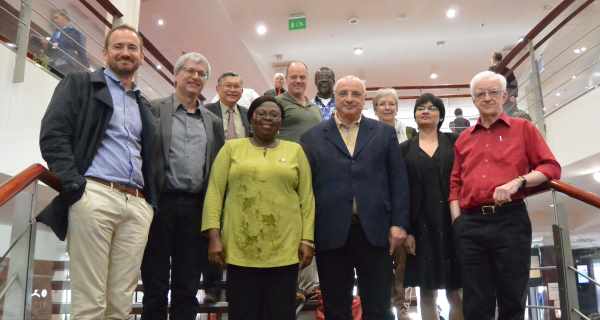 Commission chairs 2015-2018 at their meeting during the FIG Working Week, 29 May-2 June in Helsinki, Finland: Remy Boudon(comm. 6) Volker Schwieger (comm. 5), See Lian ONG (comm. 10), Angela Etuonovbe (comm. 4), Steven Nystrom (comm. 9), Kwame Tenadu (comm. 8), Enrico Rispoli (comm. 3), Gerda Schennach (comm. 7), Fahria Masum(comm. 2), Brian J. Coutts (comm. 1)
---