FIG Commission 10

FIG Commission 10 - Construction Economics and Management
The mission of commission 10 is to:
Commission Chair

The promotion of the practice of QS/CE and PM/CM globally.
The promotion of "best practice" for QS/CE and PM/CM globally.
The promotion of dialogue between member organizations engaged in QS/CE, and PM/CM.
Fostering of research appropriate to the better understanding of building practice around the world.
The promotion of cooperation among FIG Members organisations involving QS/CE and PM/CM for their mutual well-being and that of their individual members.
The advancement of QS/CE, PM/CM, by education and research and continuing professional development
To secure uniformity in education, standards and methodology by QS/CE, PM/CM throughout the world
To facilitate and assist in development of formal education framework and competencies in the profession of QS/CE or PM/CM among member organisations that may not have a formal education or professional development in QS/CE or PM/CM
To achieve the above mission objectives, FIG Commission 10 will collaborate with other international or regional organisations such as RICS, ICEC, PAQS, CEEC, AAQS, PMI and other similar organisations.

Mr. See Lian ONG, RICS, Malaysia
Upcoming Events

---

FIG Congress 2018
6-11 May 2018, Istanbul, Turkey
www.fig.net/fig2018

---
Recent News
Launch of Construction Standard - 25 July 2017
| | |
| --- | --- |
| | See Lian Ong, Chair of FIG Commission 10 is chair of the International Construction Measurement Standards (ICMS) Coalition Standards Setting Committee. Their effort has resulted in a successful ICMS standard that was launched in July 2017. This new ICMS standard enables, for the first time, better comparison in order to improve investor confidence and attract more private sector funding. |
---
Commisson 10 at the FIG Working Week 2017 in Helsinki, Finland 29 May - 2 June
Commission 10 had its annual meeting during the FIG Working Week 2017 in Helsinki, Finland 29 May - 2 June 2017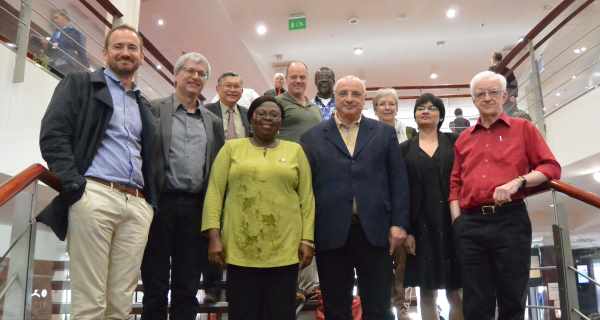 Commission chairs 2015-2018 at their meeting during the FIG Working Week, 29 May-2 June in Helsinki, Finland: Remy Boudon(comm. 6) Volker Schwieger (comm. 5), See Lian ONG (comm. 10), Angela Etuonovbe (comm. 4), Steven Nystrom (comm. 9), Kwame Tenadu (comm. 8), Enrico Rispoli (comm. 3), Gerda Schennach (comm. 7), Fahria Masum(comm. 2), Brian J. Coutts (comm. 1)
---
Commission 10 at the FIG Working Week 2016 in Christchurch, New Zealand 2-6 May 2016
The Technical session on 3 May went extremely well with overflowing participants. There was a great interest on BIM and the 4 papers on BIM were very well received. One paper was on the Green Building presented by a professor from Indonesia.
Commission 10 report - presented at the General Assembly
[Report] [Handouts]
General Assembly minutes (to be added)
---
FIG Commission 10 Chair See Lian Ong appointed FIG representative in ICMS
FIG is a member of the International Construction Measurement Standards (ICMS) coalition. At the first meeting for the coalition members in June 2015, See Lian Ong represented FIG, and signed the Declaration on behalf of FIG Council. FIG Council has appointed Chair of FIG Commission 10 See Lian Ong to be the FIG representative to the Standard Setting Committee. FIG is following the development of the work of ICMS with great interest.
---
FIG Commission 10 at the FIG Working Week in Sofia, Bulgaria
FIG Commission 10 had one session during the Working Week: Current and Emerging Trends in Construction and Cost Management. The topic BIM attracted a lot of interest, and the session was active and the audience was captived throughout the session.



From left: Commission Chair See Lian Ong and Former Commission Chair Robert Sinkner

The 1st presentation was by Dr. Krishna Mochtar of Indonesia on the "Problems in Materials and Equipment Procurement of Indonesian Contractors. He highlighted that due to the geographical spread of Indonesia, logistics pose major problems and therefore variables in cost between the more developed western part of Indonesia and the less developed part of Indonesia.

The 2nd presentation was by Dr. Yi-Hsin (Carrie) Lin from the South East University of Nanjing, China. Her paper was on the Evaluation of Competitiveness of International and Chinese Contractors using the "Back Propagation Neural Network" technique. The presentation demonstrated in which particular area where competitiveness lies and clearly demonstrated that Chinese contractors are increasingly competitive compared to their competitors from more advanced countries particularly in infrastructure and transportation related projects.

At the end of the session the FIG Commission 10 chair, SeeLian Ong took the opportunity to share his views on the development of BIM and provide insights on the global maturity in the adoption of BIM. Download presentation


Dr. Krishna Mochtar, Indonesia

Dr. Yi-Hsin (Carrie) Lin, China
---
Commission 10 at the FIG Working Week 2015 in Sofia, Bulgaria 17-21 May 2015

Mr. See Lian ONG,

Chair of commission 10 making his report to the General Assembly

Commission 10 had its annual meeting during the FIG Working Week 2015 in Sofia, Bulgaria, 17-21 May 2015.