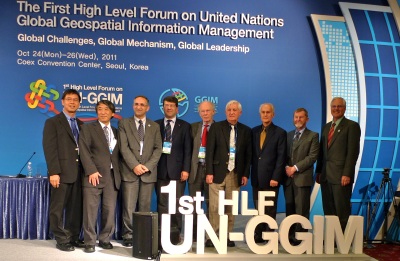 Joint Board at the UNHGGIM meeting, Seoul, Korea, October 2011.
The Joint Board of Geospatial Information Societies (JBGIS) is a coalition of recognised international geospatial organisations involved in the coordination, development, management, standardisation or regulation of geospatial information and related matters, represented by the Presidents, Secretaries‐General or equivalent office bearers or their nominees that lead those organisations.
The JB GIS is a co-operation network and there are no obligations to the membership neither does the JB GIS collect any membership fees. The current members of the JB GIS are:
The JB GIS meets normally once a year in normal case linked to one of the conferences or other meetings of one or two of the member associations.
The JB GIS can appoint ad hoc committees for certain projects and important topics. Normally these committees shall have clear goals and are normally appointed for a limited time period.
---
Contact Address
Joint Board of Geospatial Information Societies (JB GIS)
c/o International Federation of Surveyors
Kalvebod Brygge 31-33
DK-1780 Copenhagen V
DENMARK
e-mail: Louise Friis-Hansen
Tel + 45 9391 0810 (direct)
Tel + 45 3886 1081
Web site: www.fig.net/jbgis