International Federation of Surveyors
Fédération Internationale des Géomètres
Internationale Vereinigung der Vermessungsingenieure

FIG Newsletter – November 2022
---
Dear Colleague,
"Besides its excellent technical content, the recent FIG Congress in Poland was a place for enthusiastic reunions and for forming new friendships" writes Wim van Wegen, GIM Magazine. Please read the full article, which also includes impressions from two young surveyors. Wonderful words to read, which are stimulating for the preparations for the upcoming Working Week in Orlando, Florida. The Congress 2022 showed the importance and joy of meeting in person, and it is our hope that the next Working Week in 2023 will be another great adventure - especially this destination encourages great adventures, being inside the Disney World area. It is now time for you to submit abstract so that you can become part of the technical programme in Orlando.
A recent Hand-Over Event held in Germany in conjunction with Intergeo marked the transition to the new 4-year leadership of FIG. FIG President Rudolf Staiger handed over the presidential chain to President Elect Diane Dumashie, after talking about his 22 years of FIG - and learning to have "ice in the stomach".
In this newsletter you can also read about FIG at Intergeo incl two Intergeo-TV interviews, Rudolf Staigers attendance at UNWGIC, Diane Dumashies first representation as President Elect, and get acquainted with the three latest FIG publications, by FIG Commissions 3 and 8 and one in cooperation with FAO and UNECE.
The ball is rolling at the World Football Championship, and the ball is certainly also rolling in FIG...
---
FIG WORKING WEEK 2023 - BE PART OF THE TECHICAL PROGRAMME, SUBMIT YOUR ABSTRACT NOW

It is our great pleasure to invite you to the largest and most prestigious conference of surveying and geospatial professionals in 2023; held in Orlando, Florida USA. We expect around 1,500 - 2,000 surveying and geospatial experts from all over the world.
Local host of the Working Week is our US member - the National Society of Professional Surveyors, NSPS who, together with FIG, are looking forward to welcoming you to an extraordinary week of sessions, social, and sun!
The location within the Disney compound is extraordinary and special and besides the technical programme there will also be technical tours specially designed for Working Week participants.
The overall theme of the Working Week is
Protecting Our World, Conquering New Frontiers
As the world emerges from the grips of a global pandemic and the renewed enthusiasm of in-person conferences, the focus of the geospatial professions is becoming clearer. Our world and the population residing on it needs our assistance in finding better ways of sustaining our environment. This vision for helping with making those changes are reflected in this year's theme for our Working Week and is strategically aligned with the United Nations Sustainable Development Goals (SDG) as adopted by the Member States in 2015.
Call for papers
Now is time for you to consider becoming part of the technical programme. Do you have a story to tell, research to share, best practice examples or other things you would like to share with your fellow surveyors? Then submit your abstract.
> Read the call for papers
> Submit your abstract
Become a sponsor or exhibitor
| | |
| --- | --- |
| | This FIG Working Week 2023 will be held in the Americas for the first time in over 20 years. This will be your chance to showcase your company or organisation to both a large American and also to a truly international audience. |
| | NSPS Executive Director and member of the Conference Steering Committee, Tim Burch, was present at Intergeo 2022 in Essen Germany, and was interviewed for Intergeo TV. Watch the interview |
Many exciting experiences are awaiting you during the Working Week and at the destination. The American Evening which is the Working Week cultural evening will be a spectacular performance, the Disney's Hoop-Dee-Doo Musical Revue. Several special technical tours have been organised for attendees only.
Registration will open soon. After you have registered you will get the option to book you accommodation at the conference hotels at a favourable rate. You will help us by booking these rooms as the conference is dependent on filling up these rooms and the local organisers have done a great job in negotiating reasonable rates for the Disney area. There will be a special student rate.
Read more about the Working Week and what to expect at www.fig.net/fig2023
Follow the Working Week preparations on FIG Social media:
---
NEWS FROM FIG
"Having Ice in the Stomach" or 22 years of FIG - FIG Hand-Over Event

Current President Rudolf Staiger with President Elect Diane Dumashie and Honorary President Stig Enemark at the hand over ceremony.

The German Association DVW hosted a hand-over event marking the transition from the current council with Rudolf Staiger as President to the new council with President Elect Diane Dumashie.
Read more
---

Tim Burch and Kwame Tenadu promoted FIG Working Weeks 2023 and 2024 at Intergeo 2022

FIG was represented with a stand at Intergeo 2022 in Essen, Germany having the opportunity to promote FIG activities and also the future conferences, especially the Working Weeks 2023 and 2024 in Florida and Ghana
Read more

---
As part of the TOPCART Congress in Sevilla, Spain, CLGE held a conference and General Assembly as well as the FIG Commission 7 annual meeting.
Read more
---
UNWGIC 2022 was held in Hyderabad, India. FG was represented by FIG President Rudolf Staiger and Hartmut Müller, Commission 3 who had organised a well-attended side event on The Importance of Land Administration for the Implementation of the SDGs.
Read more
---
Will you be our host in 2027? FIG Council announces the bidding material for the FIG Working Week 2027. All member associations are encouraged to consider to submit a bid. Election of the destination will take place at the Working Week 2023 and General Assembly in Orlando, Florida.
Read more
---
Shining a Light on the Surveying Profession
| | |
| --- | --- |
| | GIM Magazine Head of Content Wim van Wegen looks back on the FIG Congress 2022, together with two young participants for a refreshing perspective from the new generation of surveyors. "Besides its excellent technical content, the recent FIG Congress in Poland was a place for enthusiastic reunions and for forming new friendships". Read the article |
---
Thanks to all Congress sponsors, partners and exhibitors
---
NEW PUBLICATIONS



These new publications examine the state-of-play and future directions for digital transformation in land administration in the United Nations Economic Commission for Europe (UNECE) region and beyond. Fig publication 80 - Digital transformation and land administration - Sustainable practices from the UNECE region and beyond and FAO Knowledge for Investment Brief: Funding Digital Transformation for Land Administration
Read more...
---



This new FIG Publication prepared by FIG Commission 8 aims to provide an overview of relevant topics for land consolidation practice.
Read more
---



New FIG Publication by FIG Commission 3 sheds light on several areas where geospatial data can be particularly useful in supporting the path to sustainability in the 2020s.
Read more
---
COMMISSION NEWS
Newsletters:
---
ARTICLE OF THE MONTH
The Article of the Month in November 2022 is written by Adamu Bala et al. (Nigeria): Mapping and suitability analysis of existing electoral polling units in Katsina local government area of Katsina State, Nigeria. The paper was awarded the Survey Review Prize, and has passed through the reviewing and revision stage overseen by FIG, before being judged by members of the Editorial Board of Survey Review. The research examined the mapping and analyses of existing polling units in the study area to provide scientific criteria for citing new polling units. Read more
---
UPCOMING EVENTS
9-11 December 2022, Hong Kong
International Conference on Geomatics Education - Challenges and Prospect - organized by the Department of Land Surveying and Geo-Informatics. Supported by FIG Commission 2 Read more here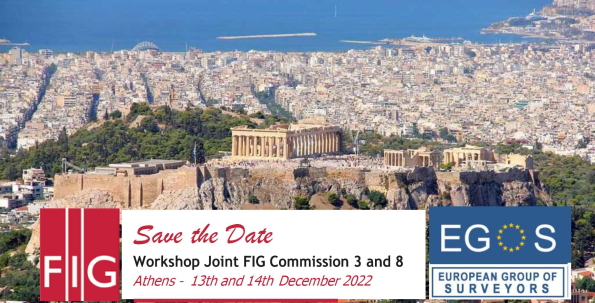 13-14 December 2022, Athens, Greece
FIG Commission 3 + 8 Workshop. The workshop will be the 1st edition of the "International Scientific Conferences of European Surveyors", organized by EGoS - European Group of Surveyors. FIG Commission 3 (spatial information management) and 8 (spatial planning and development) together with EGOS cordially invite you to attend the conference.
Read more about the conference here
---
Kind regards,
Ms. Louise Friis-Hansen
Director
International Federation of Surveyors
Fédération Internationale des Géomčtres
Internationale Vereiningung der Vermessungsingenieure
International Federation of Surveyors
Kalvebod Brygge 31-33
DK-1780 Copenhagen V
Tel. + 45 3886 1081
Direct: + 45 9391 0810
louise.friis-hansen@fig.net
www.fig.net
FIG Working Week 2025, Brisbane, Australia
FIG Congress 2026, Cape Town, South Africa
FIG Working Week 2028, Paris, France - CELEBRATING FIG 150 ANNIVERSARY
Subscribe monthly FIG Newsletter
---
FIG on Social Media:





If you have not already joined, join us today...
---
The monthly Newsletter is mailed to all members, commission delegates and all interested partners. FIG offers the Newsletter to all members of member associations and other interested in FIG. If you don't already get your copy you can order it now at: www.fig.net.

FIG Newsletter brings you latest information about FIG and its activities. The information referred here is in full length available on the FIG web site. Thus the Newsletter is produced to inform you what has happened recently and what interesting things are going to take place in the near future. The FIG Newsletter is circulated monthly or bi-monthly by e-mail. The referred articles are in English and written in a way that you are able to extract them to your national newsletters or circulate to your members and networks.

If you do not want to receive the newsletter in the future, please click here to unsubscribe from the mailing list
.
---