And this is why it is such a pity that we had to cancel FIG Working Week 2020…
What is FIG Working Week?
The name "Working Week" may sound strange for those who have not participated in a FIG Working Week. Isn't it just another conference? Yes, FIG Working Week is a conference. It is however also a lot more. First and foremost, the yearly General Assembly is held with its focus on the activities and business of FIG. Here, new future Working Week destinations are selected by the General Assembly, officers for posts within FIG such as the President, Vice Presidents and Commission chairs are elected, and the direction of the Federation lined out.
During the three conference days, a large programme is designed for all participants. The technical programme includes sessions organized by the 10 professional commissions, networks, task forces, and permanent institutions. In total 80 sessions held in 8 session slots. Busy days… Hereto, there are special sessions in cooperation with several of FIG Institutional Partners – this year there are sessions organized jointly with FAO, UN-Habitat/GLTN and with UN-ECE. Our four platinum members, Trimble, ESRI, Leica and Bentley are also included in the technical programme. Since meeting face to face is a challenge in a worldwide organisation, the Working Week is also used for special meetings, commission meetings, working group meetings, task force meetings, meetings with FIG Council and the President etc. All in all, a variety of different activities that take place in parallel during these quite busy days. In other words, all attendees are working; working hard during this week.
This will not be the case in 2020 as there is no travel, no larger gatherings, no conferences.
So why not having an online conference?
The consideration to change the technical programme to be held online was considered. It could have been possible, although the time zone differences would have been just one of the challenges. Having 10 parallel sessions during eight sessions slots over three days is a lot. Technically, it is doable, but will the output be worth the effort? One of the main ideas with FIG Working Weeks is the networking, the meeting part, the exchange between surveyors coming from different countries and different backgrounds, but who, in many cases, face the same or similar challenges.
Technical Programme / Proceedings
COVID19 does however not prevent us from sharing and spreading information.
The overall theme of FIG Working Week 2020 is Smart Surveyors for Land and Water Management with a sub theme for each day:
smart surveyor
land and water management
10 year to go to achieve the Sustainable Development Goals
So, it was decided not to carry through an online programme. Instead, the technical programme/proceedings is shared with you; with all who might find it interesting to get inspired by the sessions, by the papers, by the ideas. We will do this during the week the FIG Working Week should have taken place – 10-14 May.
During these days, together with our media partner Geomares, we will present highlights from the technical programme in the online newsletter of GIM magazine. This is a unique possibility to share the programme with you which we are looking very much forward to.
We do hope that you will follow us during the week, look out for the newsletters from FIG and from GIM Magazine, and we will do our best to guide you through the treasure of information and knowledge. For the proceedings, please click here.
So - is there something in it for me?
Surveying is many things. FIG is thriving to cover all areas of surveying which is done through the 10 different commissions of FIG. The commissions cover all the following different areas:
Commission 1 – Professional Standards and Practice
Commission 2 – Professional Education
Commission 3 – Spatial Information Management
Commission 4 – Hydrography
Commission 5 – Positioning and Measurement
Commission 6 – Engineering Surveys
Commission 7 – Cadastre and Land Management
Commission 8 – Spatial Planning and Development
Commission 9 – Valuation and the Management of Real Estate
Commission 10 - Construction Economics and Management
Further to this there are two regional networks, covering Africa and Asia/Pacific, Standards Network, and the FIG Young Surveyors Network. The Young Surveyors network will host webinars on 9 May covering different time zones – watch out for more information on this.
Last, but not least, an afternoon of history should have taken history interested participants through many aspects of the history of surveying.
Each commission and network will give you an introduction to their work, to sessions and why these exact themes were found under the overall topics of this working week.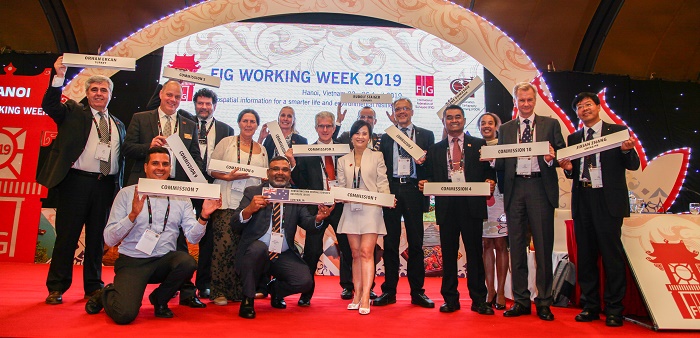 FIG Council and Commission Chairs at FIG Working Week 2019 in Hanoi. You will meet all commission chairs through articles that are presented during the week 10-14 May
Another chance – FIG Working Week 2020… +1
As mentioned earlier, an online conference, or as here, the sharing of the technical programme online does not make it up for the full conference experience. Luckily, we get another chance. FIG Working Week 2021 should have taken place in Accra, Ghana, but the Ghanaian local organisers are showing a real FIG spirit and have generously offered the Dutch to take over the Working Week in 2021. Instead, the FIG Working Week in Ghana will be moved to 2024, having the larger Congress 2022 in Cape Town, South Africa, and FIG Working Week 2023 in Orlando, Florida, USA.
We are also happy on behalf of our good and faithful sponsors and exhibitors as we can offer them to attend next years Working Week.
Already now, you can look forward to 2021, to experience a real FIG Working Week in person. But until then, we will guide you through the programme of FIG Working Week 2020, and we hope that you will join us in this journey next week.
Thank you to the Dutch local organisers