News in 2023

FIG Working Week 2027 in Stavanger Norway
1 June 2023, Orlando Florida



Steinar Wergeland, repesenting Stavanger Norway, and Ganesh Prasad Bhatta representing Nepal on the first General Assembly day

At the FIG General Assembly 2023 election for the destination and host of FIG Working Week 2027 took place. During the first General Assembly on Sunday 28 May 2023 representatives from the two destinations, Kathmandu Nepal, and Stavanger Norway had 10 minutes each to present their ideas for the FIG Working Week 2027 and the destination. On Wednesday 30 May the actual online election started for the officially appointed delegates from FIG Member Associations. The voting was open for 18 hours so that delegates from all over the world could cast their vote.

Presentations by the two candidates:

Kathmandu, Nepal [presentation] [Video]
Stavanger, Norway [presentation] [Video]
On Thursday 1 June 2023 at the second General Assembly the result was presented: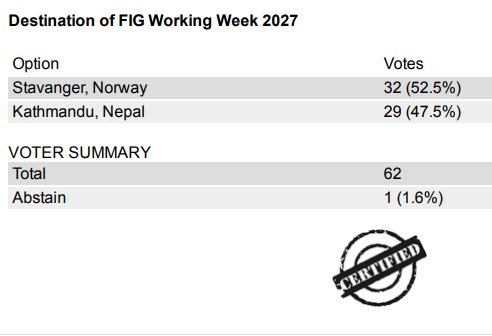 In total 62 (87.3%) of 71 registered electors voted in this ballot.
FIG President Diane Dumashie thanked both associations for their support to and interest in being the host of the FIG Working Week 2027 and for their engagement with FIG. The close result speaks for itself, however the General Assembly has decided that FIG will be welcoming all to Stavanger in Norway in 2027.
Thanks to both Nepal and Norway for their interesting bids.
A report on the General Assembly will be published soon together with the minutes and a report on the FIG Working Week 2023.
Future FIG Working Weeks and Congresses
The following destinations have been selected for the upcoming events
2024: FIG Working Week 2024 - 19-24 May 2024 in Accra, Ghana
2025: FIG Working Week 2025 - 1-5 May 2025 in Brisbane, Australia
2026: FIG Congress 2026 - April-June 2026 in Cape Town, South Africa
2027: FIG Working Week 2027 - April-June 2027 in Stavanger, Norway
2028: FIG Working Week 2028 - April-June 2028 in Paris, France - celebrating the 150th anniversary of FIG (founded in Paris in 1878)
Louise Friis-Hansen
June 2023
©2023 FIG