News in 2022

Preparations for FIG Working Week 2023 in Orlando, Florida
11-12 April 2022, Orlando, Florida USA

The first site visit to the conference venue in Orlando, Florida, and the kick-off meeting should have taken place a year ago in 2021 but the covid19 situation made this face-to-face meeting not possible. Finally, in April 2022 the travel situation has gone back to a - somewhat - normal situation which made it finally possible to meet in person. It seemed that everyone enjoyed having a real in-person meeting. Thoughout the year there have been online meetings which are good for preparations, but sitting together in the same room, discussing directly makes a big difference and is extremely useful and also efficient.

Entering the Disney Area. The conference venue and hotel is located inside this huge area - which is 43 square miles, 25,000 acre, 111 square km - or to compare - the size of San Francisco or two Manhattan islands.
Destination and venue
FIG was met with palms as the conference banner promises, beautiful summer weather (from a Nordic perspective) with temperatures around 25 degrees Celcius/77 degrees Fahrenheit and the always heartwarming American hosptality. FIG Working Week 2023 will take place 28 May - 1 June 2023 in Orlando, Florida, US. The venue is located inside the Disney World area, which will be a unique opportunity to also discover this special place. The local organisers have negotiated good prices at the conference hotels Signia by Hilton Orlando Bonnet Creek and Waldorf Astoria Orlando that also eliminates the resort charge of $45 per day that is otherwise added to hotel stays within the Disney area.
The conference venue is located right between these two hotels with direct indoor access from both.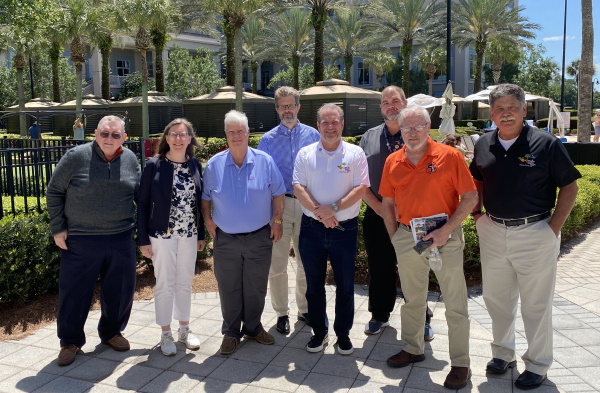 Representatives from NSPS Florida, Lou Campanile, 2022 FSMS President, Bill Muscatello, Orange County Surveyor, Richard Allen (City of Orlando Surveyor, and Howard Ehmke, incoming 2023 FSMS-Florida Surveying and Mapping Society President, met with Co-Conference Director John Hohol, NSPS, and Tim Burch NSPS Executive Director, and FIG Vice President Mikael Lilje and Director Louise Friis-Hansen.
Technical programme
The overall theme of the Working Week is: Protecting our World, Conquering New Frontiers which refers to the importance of looking ahead and discovering what will be needed in the future for our profession and at the same time make sure to preserve what works well today. At the meeting specific topics related to US and to Florida were discussed such as surveying in wetlands of which there is plenty in Florida, sustainability, data integrity, and dynamic datums. In 2022 the National Geodetic Survey of US, a FIG Affiliate Member, will rollout the modernization of their National Spatial Reference System (NSRS) replacing current horizontal and vertical datums (NAD 83 and NAVD 88) with four plate-based reference frames and a single geopotential datum. The 2023 FIG Working Week will be an excellent venue to showcase the international coverage and collaboration of this modernization effort.
FIG interprets the term surveying and the profession of surveyors in its broadest sense, including surveying, cadastre, valuation, national mapping professionals, geospatial experts, planners, valuers and quantity surveyors working in both the public and private sectors, in the scientific, research and academic community, as well as from technology innovators and industry from more than 120 countries around the world.
The call for papers will be published in June/July and the submission of abstracts will be opened.
Exhibition and sponsorship possibilities
The venue is ideal for exhibition, and a large exhibition area is awaiting exhibitors and sponsors both from the US and from around the world. This exhibition is a unique opportunity to get close to the US market. The local organisers are working together with associations from Latin and South America and hope to attract a good number of participants.
Networking opportunities and social events
Being in the Disney area gives a unique opportunity to also explore this area. it is possible to bring spouse/family so that they can enjoy Orlando and Disney World. IT will be possible through the conference to book social tours. The local organisers are also working on a selection of special technical tours that will be a one-time experience of getting behind the scenes. As in previous years two dinners will be offered. The Cultural Evening will take place at the Fort Wilderness Resort with a real cowboy Hoop-Dee-Doo dinner and entertainment. The Gala Dinner will be a culinary experience at the Waldorf Astoria Orlando.
During the Working Week there will be plenty of networking possibilities as well as meet new and re-connect with colleagues and friends.
The venue is excellent for a FIG event and it is the hope that many will also stay at the hotel giving the possibility to also connect and be together outside the official programme. You will be met by the friendly American hospitality, and you need to also explore the Disney area. You might also be interested in a round of golf - a special post-golf event is prepared on the Friday after the the Working Week. So for golf fans - remember to reserve this day, too.
| | |
| --- | --- |
| | |
| The hallway of the venue | The view over Disney World |
| | |
Fxxx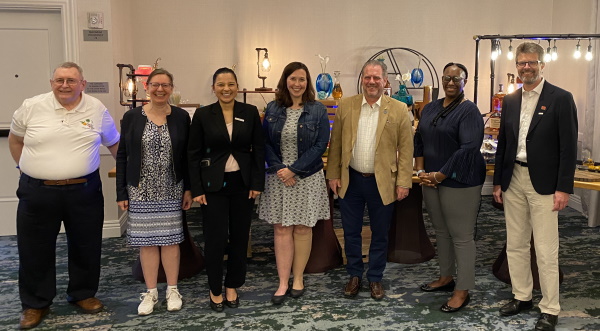 Signia Hilton and Waldorf Astoria are famous for their cocktails - there might be a chance to experience a dedicated "FIG cocktail" at the FIG Working Week 2023, created for the occasion. FIG, NSPS and the local organising company had a chance to pre-taste some of the cocktails during the meeting.
Thank you for some inspiring, efficent, productive and also very fun days.
Louise Friis-Hansen
28 April 2022