Events in 2019
Seminars and Symposia organised or co-sponsored by FIG and its Commissions are highlighted with special colour.
---
15-18 August 2019, Darwin, Australia
South East Asia Survey Congress (SEASC). Organised by ASEAN Flag Surveying Nations and SSSI, Australia, supported by FIG
Web site: www.seasc2019darwin.com.au/
---
3-6 September 2019, Prague, Chech Republic
ISPRS conference - GI4DM Geoinformation for Disaster Management organised by ISPRS
Web site: http://www.gi4dm2019.org
4-6 September 2019, Neum, Bosnia and Herzegovina
12th Regional Conference on Cadastre and Saptial Data Infrastructure Organised by Federal Administration for Geodetic and Real Property Affairs.
12-13 September 2019, London, UK
CASLE Golden Jubilee conference and General Assembly organised by The Commonwealth Association of Surveying & Land Economy (CASLE)
More information
17-19 September 2019, Stuttgart, Germany
Intergeo - Trade show and conference, Organised by DVW and supported by FIG. Through FIG you can obtain a complimentary one-day entrance ticket to the trade show.
Website: https://intergeo.de/intergeo-en/
18-20 September 2019, Munich, Germany
MRSS19 - Munich Remote Sensing Symposium 2019
Web site: http://www.pf.bgu.tum.de/isprs/mrss19/
18-20 September 2019, Munich, Germany
PIA19 - Photogrammetric Image Analysis 2019
Web site: http://www.pf.bgu.tum.de/isprs/pia19
24-28 September, Lisbon, Portugal
Lisbon Civil Engineering Summit 2019 (CES2019) organised by The Ordem dos Engenheiros (OE)
Web site: https://www.lisbonces.org/
23-28 September 2019, Cluj-Napoca, Romania
1st Romanian Surveying Week, and FIG Commission 3 Workshop and Annual Meeting - FIG Commission 3 Workshop theme "Advances in Geodata Analytics for Smart Cities and Regions"
Website: http://www.sgr.ugr.ro
---
1-3 October 2019, Kuala Lumpur, Malaysia
The 8th FIG Workshop on the Land Administration Domain Model (LADM2019)
A joint event with UDMS's 4th International Conference on Smart Data and Smart Cities (SDSC2019) and Geomatics Geospatial Technology (GGT2019) as part of Geospatial Kuala Lumpur 2019.
Web site: http://www.isoladm.org/LADM2019Workshop
9-11 October 2019, Porto, Portugal
Geodecision 2019 meeting. Geodecision for Sustainable Communities. Supported by FIG
Web site: https://www.mygeodecision.com
11-12 October 2019, Porto, Portugal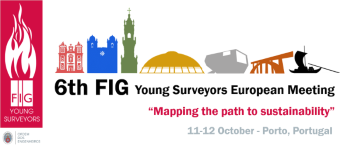 6th FIG Young Surveyors European Meeting "Mapping the Path to Sustainability"
Web site: http://www.fig.net/organisation/networks/ys/activities/events/6ysem.asp
27 October - 3 November, Beijing, China
The 2nd International Workshop on GIS Technology and Application Organised by

Chinese Society for Geodesy, Photogrammetry and Cartography together with

SuperMap (FIG Corporate Member - gold category), and supported by FIG.
Web site: http://www.gistc.com/en/
Invitation to international participants
Registration form for international participants (word doc)
29-31 October 2019, Neum, Bosnia and Herzegovina
IV. Congress on Cadastre in Bosnia and Herzegovina with international participation, organised by MOSTAR Geodetic Society of Herzeg-bosnia.
More information
---
5 – 8 November, Galicia Spain

FO Landnet workshop - Land management challenges and opportunities organised by FIG Commission 8, FAO and LandNet
Web site

6-8 November 2019, Changsha, Hunan Province
Chintergeo 2019
Web site: www.chintergeo.com
10-14 November 2019, Cairo, Egypt
GeoMEast 2019 International Congress and Exhibition: Sustainable Civil Infrastructures - Beyond the Horizon.

Web site: https://www.geomeast.org/

13 November 2019, Arau, Switzerland
200 Jahre Kern Celebration organised by the Society for the History of Geodesy in Switzerland
Invitation
18-19 November 2019, Kuala Lumpur, Malaysia
Hydrography seminar Organised by FIG Commission 4 in collaboration with PEJUTA and UTM, supported by the national Hydrographic Centre Malaysia and the Department of Survey and Mapping Malaysia.
Including FIG Commission 4 Annual Meeting.
Web site: http://www.geoinfo.utm.my/klgeohydro
20-24 November 2019, Beirut, Lebanon
Third International Scientific Conference Applied Geomorphometry, GIS and Remote Sensing in Earth Sciences and Environment, Organised by GEO- Lebanon.
Web site: http://if3g.unioneag.org/