Facts about Indonesia
Indonesia at a Glance

Capital City:
Jakarta
Climate:
Tropical and equatorial. 28° - 35° C
Credit Cards:
Major cards accepted, including Mastercard, Visa and American Express
Currency:
Rupiah (1 USD = 8,700 Rp and 1 EUR = 10,650 Rp. 03/2004)
Economy:
Mainly agricultural, with exports of petroleum, timber, coffee, rubber, tea and cacao.
Electricity:
220 volts
Government:
Democracy, with a parliamentarian system
Health:
Yellow fever certificates required if arriving from infected areas or from the "endemic zones" in Africa and Latin America.
Language:
Bahasa Indonesia is the official language, with English spoken in major cities and tourist areas.
Official name:
Republic of Indonesia
Population:
210 million
Religions:
Islam, Christianity, Hinduism, and Buddhism. About 85% of the population is Moslem.
Seasons:
Wet (October - April) and dry (May - September)
Size:
736,000 sq.m / 2,000,000 sq. km
Time zones:
Three time zones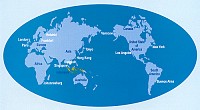 Indonesia on the World Map.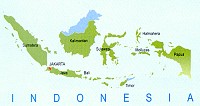 Map of Indonesia.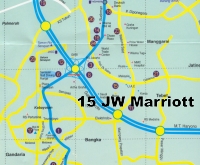 Map of Jakarta (click for full Jakarta).
Facts about Jakarta
Jakarta is the dynamic capital city of the Republic of Indonesia, a country composed of more than 17,000 islands with a population of over 210 million. Comprising more than 300 ethnic groups speaking 200 distinct languages and dialects, the Indonesian population exhibits incredible diversity in its linguistic, cultural and religious traditions. As the nation's capital, Jakarta is truly a "meeting point" of representatives from throughout the archipelago.
Jakarta is the lively social, cultural, economic and political hub of the nation, carrying legacy of more than 30 years of uninterrupted economic expansion. It is home to many of the country's finest research institutions, educational facilities and cultural organizations, and uniquely serves both as the seat of national as well as regional government.
StrategicaIly positioned on the west side of the island of Java, the Capital City is the principal gateway to the rest of Indonesia. From Jakarta, sophisticated land, air and sea transport are available to the rest of the country.
Over the last several decades, Jakarta has proudly developed into one of Asia's most prominent metropolitan centers. With a current population of over nine million people, Jakarta has undergone dramatic growth.
History
The history of Jakarta dates back to at least the 14th Century with the development of a small port of the Hindu Pajajaran kingdom at the mouth of the Ciliwung river. Searching for the fabled "spice islands", the Portuguese were the first Europeans to arrive and establish a fortress on the site in the early 16th Century.
The old port was attacked by a neighboring sultanate under the leadership of Prince Fatahillah. After the assault, the Portuguese navy fleet was destroyed. Fatahillah changed the name of the Sunda Kelapa port to Jayakarta, meaning "Total Victory".
It was to this town that Dutch spice merchants came in the late 16th Century and began a trading association with Europe that was to dictate the history of Jakarta, and Indonesia as a nation, for nearly 350 years. Under the Dutch East India Company (VOC) the town of Jayakarta was renamed to Batavia in 1619; from here they ruled Indonesia for more than three centuries. Following the Japanese invasion and rule of the country from 1942-45, on August 17,1945, Indonesia's first president Soekarno, proclaimed Indonesian independence and Jakarta became the accepted nation's capital.
Today the City Government development plan is directed at stimulating services, trade, tourism and selected industries so as to take an advantage of the city's many assets and potentials, including a young generation of well-qualified professionals. Jakarta is rapidly being recognized as a "service city" in the field of finance, trade, tourism and telecommunications.
Government & Administration
Due to its very extensive size and population, Jakarta has been given the status of a province, similar to the other 31 provinces throughout Indonesia. As a province, Jakarta is headed by a governor who is directly responsible to the President of the Republic via the Minister of the Home Affair. Holding the dual position of city province and capital city, Jakarta is considered a Special Region (Daerah Khusus Ibukota, DKI).
BAPPEDA - the Indonesian acronym for the Regional Planning Development Board - gives guidance to the various government agencies and assists the Governor of Jakarta in setting the strategic planning development and financial policies for the metropolitan Jakarta area.
City Development
The City Government development plan is directed at stimulating services, trade, tourism and selected industries ' so as to take an advantage of the city's many assets and potentials, including a young generation of well-qualified professionals.
Jakarta is rapidly being recognized as a "service city" in the field of finance, trade, tourism and telecommunications, all necessary ingredients for the continued success of Jakarta, and the vibrant meetings and incentive travel industry, in the years to come.
Practical Information
Airport
Location: Soekarno-Hatta Airport is located approximately 26 km west of the city, or about a 20-minute drive to the heart of the business district where many of the major hotels are located. International flights come in and out of Terminal 2, while local flights use either Terminal 1 or 2. Soekarno-Hatta is serviced by 32 major international airlines. Chartered and corporate flights are also available in Halim Perdana Kusuma Airport.
Departure: Travellers departing from Soekarno-Hatta International Airport are required to pay an airport tax of Rp 100,000,- (~ 9.50 EUR). For domestic travel, the tax is Rp 20,000,- payable at the check-in counter at the airport.
JCAT (Jakarta City Air Terminal) is located on the ground floor in Plaza Indonesia. JCAT offers downtown check-in facilities, transport to the airport and assistance with luggage, check- in and passport control, all for a reasonable handling fee.
Conference travel agency will provide pick-up from between the airport and hotels for c. USD 7.50.
Climate & Dress
Jakarta has a pleasant tropical climate (25-31 °Celcius) most of the year, with gentle breezes. From late October to April, there is usually a rain shower everyday. The temperature drops slightly at night. Most restaurants are air-conditioned, so it's good to bring along a light jacket or sweater.
Dress is generally informal due to the warm, humid climate. People are generally neatly attired in business environments, and fashion conscious. For business meetings, accepted attire is a long-sleeved shirt with tie, and long pants. Long sleeved batik or hand-woven shirts are often worn for evening functions. For women, suits, dresses, or blouses with skirts or pants are fine. Shorts or halter tops should be used only at sports facilities or on the beach.
Currency & Credit Cards
Indonesian currency is denominated in rupiah and freely convertible. Major world currencies and travellers checks can be converted to or from Indonesian rupiah at all major hotels. Exchange rates are somewhat more favourable at local banks, and better still at special money-changing offices. Major international credit cards (Visa, Mastercard, American Express and Diner's Club) are widely accepted. Automated teller machines (ATMs) are found throughout the city. Exchange rate in March 2004: 1 USD = 8,700 Rp. and 1 EUR = 10,650 Rp.
Electricity
Electricity is 220 volts /50 cycles. Standard outlets are plugs with two rounded ping.
Transport
From Jakarta's Soekarno-Hatta International Airport, take a metered taxi located in front of the arrival terminal. An additional surcharge from the airport is Rp 3,000,- plus Rp 4,000,- for the toll road. As taxis are safe and relatively inexpensive, visitors are not recommended to self-drive in Jakarta.
Within the city, taxis are easily gotten at hotels or major buildings, or flagged down on the street. Flagfall is Rp 3,000,- and Rp 1,300,- for each additional kilometre. Cars can be hired with a minimum charge equivalent to two hours within the city limits and according to distance for out of town touring. Limousines are also available for hire. Air-conditioned coaches are also available to several key destinations in the city. Reliable taxi service can be ordered by telephone through Blue Bird. Taxis are exempted from the 6-10 am three-persons-in-one car policy that takes effect daily, except Sundays and holidays, on a few of Jakarta's main avenues.
For train travel in first class coaches.
Office Hours
Government offices are open from 8 am to 4 pm from Monday to Friday, but closed between 11:30 am - 1:30 pm on Friday for Muslim prayer time. Business offices are usually open from 9 am to 5 pm, and are generally closed on Saturdays. Banks are usually open from 8:30 am to 4 pm from Monday to Friday.
Passport & Visa Requirements
All travellers to Indonesia must possess passports, valid for at least six months after arrival, and proof of onward passage out of the country.
New visa requirements were introduced in February 2004. Free tourist visas are given at the airport on arrival to tourists who are nationals of Thailand, Malaysia, Singapore, Brunei, Philippines, Hong Kong SAR, Macao SAR, Chile, Morocco, Peru and Vietnam.
Following nationalities can obtain a visa on arrival at the airport: USA, Australia, South Africa, Argentina, UAE, Brazil, Denmark, Finland, France, Germany, Hungary, Italy, Japan, New Zealand, Norway, Poland, South Korea, Switzerland, Taiwan and UK.
Tipping
Major restaurants and hotels add a 21% service and government tax to bills. Where not included, a tip of 10% is satisfactory. Tipping taxi drivers is not mandatory, but "munding up" your fare to the nearest 1,000 rupiah is a good general practice.
Time zones
Indonesia's expansive stretch of land covers three time zones. Jakarta falls is in WIB (Western Indonesian Time, 7 hours ahead of GMT). The other time zones are WITA (Central Indonesia Time, 8 hours ahead of GMT), and WIT (Eastern Indonesia Time, 9 hours ahead of GMT). Jakarta is one hour behind Bali and two hours behind the Mollucas and Papua.