PROGRAMME AT A GLANCE
Our conference theme is 'Smart Surveyors for Land and Water Management - Challenges in a New Reality'. So much of what we face at the moment involves the necessary creation of new restrictions, regulations and enforced distance between colleagues, friends and family. However, this is also a time when we see people coming together to create new innovations, new connections and new infrastructure in record time.
With this in mind, we are excited to bring you the first edition of a virtual FIG Working Week that will showcase the latest innovations in surveying, host discussions on the key issues facing our world, and empower our community to move forwards stronger and more connected than ever before.
The virtual conference will include:
Highlevel key note sessions setting the agenda for each day
Live sessions and workshops with opportunities for interaction with speakers
Virtual networking activities
Searchable attendee list with live chat
A full virtual exhibition and the ability to interact with key organisations in real time
MONDAG - 2021 June 2021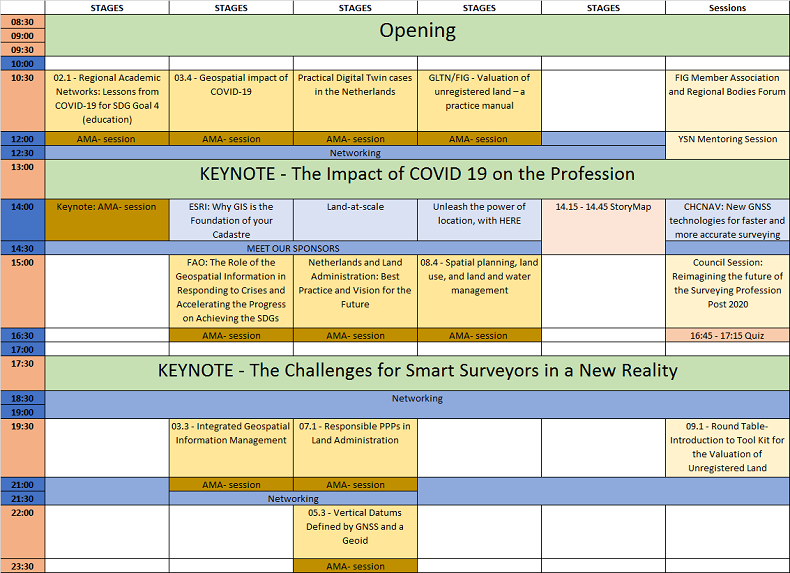 Time
(CEST)

Sunday
20 June

Monday
21 June

Tuesday
22 June

Wednesday
23 June

Thursday
24 June

Friday
25 June

08.00
Technical
Sessions
WORKSHOPS
08.30
OPENING CEREMONY
KEYNOTE
09.00
FIG General Assembly:
Session 1
Presidents report and agenda items
Presidents' Meeting
09.30
Break

Break/
Sponsor Sessions: 09.45-10.10 CEST
10.00
Break
10.30
Technical
Sessions
Technical
Sessions
Technical
Sessions
Break
11.00
Break
FIG General Assembly:
Session 3
FIG Governance
11.30
12.00
FIG General Assembly:
Session 2
Get to know your candidates
Break

Break
Break
12.30
13.00
KEYNOTE
KEYNOTE
KEYNOTE

Break
13.30
14.00
Break/
Sponsor Sessions: 14.15-14.40 CEST

Break
Break
FIG General Assembly:
Session 4
The Work of FIG
14.30
15.00
Technical
Sessions
Technical
Sessions
Technical
Sessions
15.30
16.00
CLOSING
16.30
Break

Break
Break
17.00
17.30
KEYNOTE
Technical
Sessions
Technical
Sessions
KEYNOTE
18.00
18.30
Break
Break
19.00
Break
Break
19.30
Technical
Sessions
WORKSHOPS
20.00
KEYNOTE
Technical
Sessions
20.30
21.00
Break
Break/
Sponsor Sessions:
21.12-21.40 CEST
21.30
Break

22.00
Technical
Sessions
Technical
Sessions
22.30
23.00