4TH FIG YOUNG SURVEYORS CONFERENCE

Beyond Boundaries: The Changing Role of the Surveyor
In the fast paced world of today, technology is rapidly evolving and so is the role of surveyors. From basic mapping to geodesy and data analytics, surveyors play an important and diverse role in society and economy. The shrinking gap between consumer and professional geospatial applications is driving the need for greater awareness of surveyors and the important role they play. Surveyors of today support an informed society today, and tomorrow that leverages geospatial Information Management. The 4th Young Surveyors Conference is a two day event that provides an environment for Young Surveyors from different cultures, countries, academic qualifications, and professional experience to dialogue and discuss these changes and how they can play an integral role in the future, in a society where all information are managed geospatially.
Let Young Surveyors meet where two continents meet - In Istanbul!
The 4th FIG Young Surveyors Conference will he held prior to the FIG Congress 2018 in Istanbul.
FIG and the Chamber of Surveying and Cadastre Engineers of Turkey have decided on a special focus on the young surveyors and to give Young Surveyors an outstanding opportunity to participate both in the Congress with its variety of sessions and a special Young Surveyors Conference. The Young Surveyors conference will include a tailor made programme aimed at young professionals.
A student/Young surveyors is defined as students and graduates aged 35 or under at the time of the conference, who are either currently studying/gratuated for a Bachelor, Masters or PhD degree of surveying or related studies.
If you have any inquiries you can write to the Young Surveyors at: fig.youngsurveyors@gmail.com
The 4th FIG Young Surveyors Conference will he beld prior to the FIG Congress 2018 in Istanbul.
---
To obtain the special registration fee, you are required to pre-registration by filling in a special form.
Please note: A copy of your passport and proof of your date of graduation OR proof of your current, full-time enrolment in an education institution is required when you submit your application form.

---
Program - Session description
Day 1: 5 May, 2018

8:30-9:00
Registration
9:00-10:30
Opening Ceremony

The opening ceremony of the 4YSC provides the opportunity for Young Surveyors to hear from distinguished guests from HKMO, FIG, FIG Foundation, CLGE and FIG Young Surveyors Network. This welcoming and associated presentations will set the agenda for the two day conference and focus on the theme Beyond Boundaries: The Changing Role of the Surveyor.

Ertugrul Candaş - President of Turkish Chamber of Survey and Cadastre Engineers
Chryssy Potsiou - FIG President
John Hohol - FIG Foundation
Maurice Barbieri - CLGE President
Eva-Maria Unger, Melissa Harrington and Ferah Pirlanta -FIG Young Surveyors Network

10:30-11:00
Coffee Break & Speed Dating

"Turkish Delight"

The first break of the day is always a great opportunity to get to know each other! Partcipate in a fun social activity with a local theme.

11:00-12:00
Beyond Boundaries and Beyond Change

Join us for a series of keynote presentations deliverd by the movers and shakers of the geospatial community.

Learn about the power of geospatial information, new technology, and the changing role of the surveyor. Invited keynote speakers will share their knowledge, experience and describe the challenges that they have faced in their career as a result of the chanhing role of the surveyor.

12:00-12:30
This is better than that!

Think Turkey, Technology, and Teamwork! Join us for a fun activity which inspires team creativity in problem solving. There is strength in collaboration!

12:30-13:30
Lunch
13:30-15:00
Innovation Station

Let's Workshop! Seize the opportunity to have an informed discussion with our international presenters and conference attendees, learn from each other, network and inspire innovation. In this session, attendees will select a workshop to attend. Workshop coordinators will present on a topic relating to the changing role of surveyors. Questions will be proposed and challenges outlined, and as a group attendees will work together to find solutions and disrupt the status quo. More than one workshop will be held simultaneously.

Afternoon Coffee
15:30-16:30
Let's talk about it: Can we trust technology?

Ask, Learn and Engage! Join us for an interactive panel discussion between our international presenters, where all young surveyors from around the world can pitch their ideas and ask the key questions vi a a new technology platform. Let's challenge the status quo and ask the tough questions!

16:30-17:00
Breaking Boundaries

Geospatial + Innovation = Geovation!

Join us for a series of four quick fire presentations from Young Surveyors using technology in different ways. The presentations will be in "Pucha Ketcha" format. A presentation style in which 20 slides are shown for 20 seconds each (6 minutes and 40 seconds in total). A concise, fast paced format, will test presentation stills, and keep the audience entertained!

17:00-17:30
Day 1 - Closing
17:30 +

Social Function

Join us for drinks and Turkish appetizers! Here participants have an extra opportunity to chat with the speakers, along with our sponsors and partners. Maybe you will find a friend for life, or get to know the inner workings of all the brilliant minds that we are assembling here – all in a casual relaxed environment.
---
Day 2: 6 May, 2018

09:00-10:30
Where in the world are we?

Let's get outside and orientated! Join us for an outdoor activity utilising technology, maps, local landmarks and get to know our surroundings. Local Young Surveyors will lead teams through a series of geospatial tasks using technology on their smartphones! Let's test some new technology, work together and see the sights!

10:30-11:00
Coffee Break
11:00-12:30
Tell us about it!

What's happening within our global network? Listen to updates from individual networks and YSN Leaders. Share ideas, learnings and get involved!

12:30-13:30
Lunch
13:30-15:00
To infinity and beyond! Shaping the Future of the YSN

Throughout the 4YSC the YSN has focussed on the theme "Beyond Boundaries: The Changing Role of Surveyors." Now let's shape our future, the future of the YSN.

This will be an interactive session focussing on the bright future of the YSN and how we can adapt and make changes within our network to better serve an ever changing profession.

15:00-16:00
Closing Ceremony
17:00-18:00
Charity Dance
---
The FIG Young Surveyors Network carries out the Charity tradition and brings a breath of fresh air to Charity Event.
Join us for the Charity Dance! All of our colleagues are invited to learn the regional folk dance style.
About the local dance:
Folk Dance
All of the cultural elements that belong to people who live in any region or country is called folklore. Folklore, reflects the life of the people and passes through from generation to generation. Turkey has very rich folkloric traditions which have been kept alive for centuries.
Folk dance helps people to accommodate to the society and nature. It teaches people how to communicate and how to collaborate. It shows people to find new ways to see what they are capable of. Folk dance reflects the community's values and social structure.
"Horon" - Regional Folk Dance
Horon is a very moving and swift dance style that was found in the Black Sea region. Horon symbolizes the waves of the sea, the pouring of the rain and the struggle against nature. The main instrument of this regional folk dance is Kemençe which is made of wood and has 3-strings and one spring.
Charity Dance will be lead by a local Young Surveyor Pınar Yeşim Limandal.
With Charity Dance we will support
Humanitarian OpenStreetMap Local community "Yer Çizenler Herkes İçin Haritacılık Derneği" and FIG Foundation
Practical information
The start time of the Charity Dance is at 17:00 at the Hilton Bosphorus Ballroom.
---
Congratulations to the FIG Foundation Grant recipients for FIG 2018!
We want to thanks everybody who applied for the FIG Foundation Grant to attend the 4YSC and FIG Congress in Istanbul, Turkey.
We have received over 200 applicants from around the world and we have awarded the Grand to the followoing Young Surveyors:
James Quick, United Kingdom
Cemre Sahinkaya, Turkey
Mudit Kapoor, India
Ana Julia Herrera Gonzalez, Costa Rica
Jean-Pierre Habiyaremye, Rwanda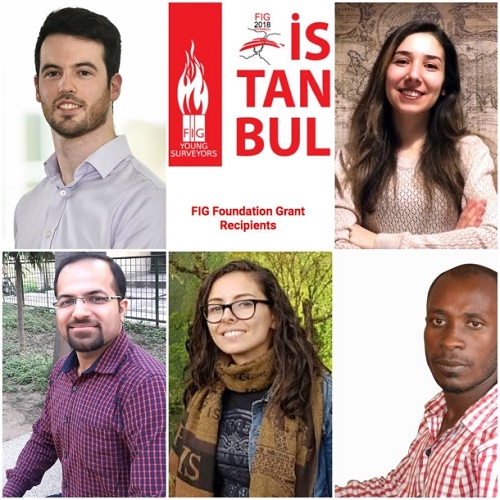 ---
Congress Venue:
Harbiye Mahallesi
Darülbedai Caddesi No:3
34367 Şişli/İstanbul, Turkije
Website: www.iccistanbul.com
---
If you have any questions please contact us at fig.youngsurveyors@gmail.com