FIG Commission 3 Annual Meeting and Workshop 2018

The annual meeting and workshop will take place 3-6 December 2018 in Naples, Italy. The Meeting and Workshop is organised jointly with Consiglio Nazionale Geometri e Geometri Laureati, the Collegio dei Geometri e Geometri Laureati di Napoli and the EGoS General Assembly.
Overall theme is: Spatial Information in the Era of Data Science: Challenges and Practical Solutions.
Call for papers
Web site
---
FIG Commission 3 at FIG Congress 2018
Istanbul, Turkey 6-11 May
The commission chairs of the term 2019-2022 was elected at the General Assembly held in conjunction with the FIG Congress in Istanbul. Mr. Hartmut Müller from Germany was elected at chair of FIG Commission 3. His term starts 1.1.2019.

Picture: From left: Mr. Hartmut Müller, incoming Chair, and Mr. Enrico Rispoli, Chair of Commission 3
FIG Commission 3 was actively involved during the FIG Congress 2018 in Istanbul, Turkey.
---
FIG Commission 3 Annual Meeting and Workshop - 27-30 November 2017 in Lisboa Portugal

Dear distinguished FIG Commission 3 delegates,
The workshop Lisbon 2017 has come to its end and I want to thank you for your valuable contribution and presentation.
The workshop was very successful, with many delegates and presentations from all over the world. It was a pleasure meeting most of you, and I am so sorry with those I did not meet. Hoping to meet them in the next event.
We had almost 50 participants and some of them were Young Surveyors, 3 keynote sessions, 7 technical sessions and more than 20 papers of high scientific level. Please allow me to thank the Portuguese Engineers Association and in particular Maria Teresa Sà Pereira, Maria Joao Henriques, Francisco Madeira and all the staff who did their best to welcome us and organized the event with such efficiency and successful results.
The proceedings of the event will be published soonest on the website.
I have noted that most have not yet submitted the abstract for the next FIG WW and Congress in Istanbul. I ask you to contact me soonest on this so that you will not loose the possibility to give your contribution of ideas to an event of so high international and scientific importance.
I am looking forward to meeting you in Istanbul for the FIG WW and Congress, in May 2018.
Best regards,
Enrico Rispoli
More pictures can be found here.

---
THe 2017 FIG Commission 3 Annual Meeting and Workshop with the overall theme "Volunteered Geographic Information: Emerging Applications in Public Science and Citizen Participation" was held 27-30 November 2017. The workshop will provide the opportunity for delegates and contributors to present their research and experience on development and use of Voluntary Geographic Information, Geographic Information System, Spatial Information Management, crowdsourcing and Spatial Data Information systems and procedures.
---
Commisson 3 at the FIG Working Week 2017 in Helsinki, Finland 29 May - 2 June
Commission 3 had its annual meeting during the FIG Working Week 2017 in Helsinki, Finland 29 May - 2 June 2017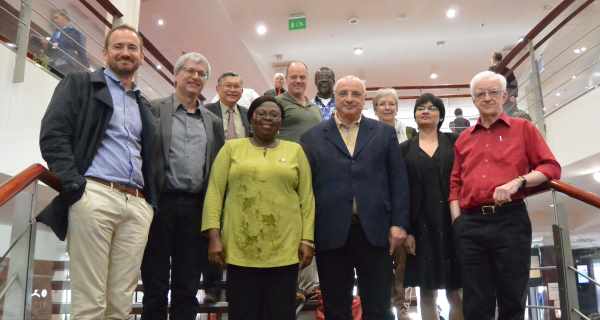 Commission chairs 2015-2018 at their meeting during the FIG Working Week, 29 May-2 June in Helsinki, Finland: Remy Boudon(comm. 6) Volker Schwieger (comm. 5), See Lian ONG (comm. 10), Angela Etuonovbe (comm. 4), Steven Nystrom (comm. 9), Kwame Tenadu (comm. 8), Enrico Rispoli (comm. 3), Gerda Schennach (comm. 7), Fahria Masum(comm. 2), Brian J. Coutts (comm. 1)

See all photos in the picture gallery