Invitation to FIG Working Week 2017 in Helsinki, Finland
Dear Delegates,
The FIG Working Week 2017 is approaching and I would like to thank you all for your interest in FIG and particularly in Commission 3.
I thank all the authors who wil present a paper during the WW. The great participation of the speakers has allowed, also this year, to have numerous technical sessions of professional and scientific interest in Spatial Information Management, VGI and Crowdsourcing, GIS and 3D Spatial Information.
As usually happens during the Working Weeks, each Commission will held its Annual Meeting.
It is my pleasure to invite you to our meeting that will take place on wednesday 31st May from 17.30 to 18.30. This meeting is a good occasion to update you with the last news, to exchange ideas and to inform you about the future plan of the Commission.
We will have the opportunity to meet and be up-to-date on the work done by the working groups in listening the interesting reports directly from the working group chairs. We will choose the location for the workshop to bel held next November and discuss about the future organization of commission 3.
Every new idea or proposal on your behalf is more than welcome to improve the activity of the Commission and this moment is the right time to have our discussion.
After the meeting we can have a rest together in the evening in joining the Commission 3 dinner (restaurant to be decided) where you are more than welcome.
Therefore dear delegates I really hope to meet you in Helsinki at the end of this month and if you are interested in having more information about the whole event please visit the website www.fig.net/fig2017 and/or do not hesitate to contact me.
Best regards,
Enrico Rispoli"
---
Technical Seminar on Cost Effective Positioning and Geo Data
20 April 2017, Novosibirsk, Russia
We are pleased to invite you to attend the International Seminar on the role of Cost Effective Positioning and Geo Data. The Seminar will be jointly organized under auspices of FIG Commissions 3 and 5. It will be held within the frame of the XIII International Exhibition and Scientific Congress "Interexpo GEO-Siberia 2017", April 19-21, 2017. More information...
---
FIG Commission 3 Annual Meeting & Workshop, 3-6 November in Romania
Commission 3 Annual Meeting and Workshop "From Volume to Quality: Bridging the Gap for Spatial Data Infrastructure" - joint to EGoS GA and Geomat 2016 "Spatial Information Management for Sustainable Development" - International Symposium organized by Technical University of Iasi in collaboration with Romanian Surveyors Association, 3-6 November 2016, IASI - Romania
Read the report
Programme - download
Website: http://com3fig.wix.com/fig-commission3-2016
Group Photo

Opening Ceremony
---
Special support to Young Surveyors presenting a paper offered by FIG Foundation and Romanian Geodetic Association
Thanks to the finansial support given by FIG Foundation, Commission 3 will offer international academic participants presenting a paper under the age of 35, in addition to a special registration fee, an financial contribution that will cover part of the expenses. In addition, Romanian Geodetic Association will support about 15 young surveyors from Romania and Republic of Moldova not being supported by FIG and encourages participation for any academic members and students with special tariff and accommodation in Iasi student hostels if still available.
---
FIG attened the ILMS Coaltion Meeting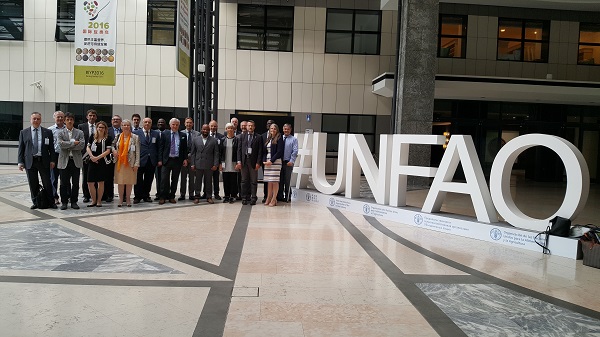 FIG Commission 3 Chair Enrico Rispoli participated in the ILMS Coaltion Meeting in UN FAO, 9-10 June 2016
---
FIG Commission 3 at the FIG Working Week 2016 in Christchurch, New Zealand 2-5 May