News in 2023

13th Session of the UN Committee of Experts on UN-GGIM
31 July - 4 August 2023, New York USA
FIG President Diane Dumashie and the FIG Community at the 13th Session of the UN Committee of Experts on Global Geospatial Information Management (UN-GGIM)
| | |
| --- | --- |
| UN Headquarters, New York | President Diane Dumashie, Vice President Mikael Lilje |
Since its establishment, the UN Committee of Experts on Global Geospatial Information Management (UN-GGIM) holds an annual meeting. This year, the 13th session was convened at the UN headquarters in New York, and organised by United Nations Statistics Division (UNSD) of the Department of Economic and Social Affairs.

Programmed over five days it also includes two days of substantive side events and pre- meetings. President Diane Dumashie was invited to participate and importantly, many of our FIG community are also active including FIG Vice President and FIG chairs, as detailed below, were also involved in these related side events and network meetings.
The UN-GGIM Committee of Experts are mandated to provide leadership to ensure that geospatial information and resources are coordinated, maintained, accessible and able to be leveraged by member states and society to find sustainable solutions for social, economic and environmental development. The annual meeting is a formal mechanism under the UN auspices for the key players, i.e. member States to discuss and coordinate geospatial information activities.
In addition, observers from international organizations, academia, regional organisations and networks and the private sector are also invited to participate.
FIG is a UN and World Bank recognized non-governmental organization, and has an observer status role. This means that FIG is given space to provide verbal interventions during the member states' plenary discussions to inform the agenda topic under discussion.
| | |
| --- | --- |
| Diane Dumashie and Ryan Keenan plenary interventions | |
It is clear that there is a need and relevance for a global mechanism such as UN-GGIM and that FIG has much to offer. Noting that the Committee of Experts is a subsidiary body of the Economic and Social council that is in charge of all matters relating to geospatial information, geography, land administration and related topics.
Accordingly, FIG President Diane Dumashie emphasised the relevance of FIG and UN GGIM partnership working with the various UN-GGIM initiatives. In particular, and because UN GGIM is addressing the critical issues that FIG is also focusing on during over the next few years. Namely, the future geospatial information ecosystem (FIG Geospatial Task Force); FELA, LADM (Comm 7); geospatial information for sustainable development (Comm 3); climate resilience (FIG Climate Compass Task Force); authoritative data and integrated marine geospatial information management (Commission 4); SDG (FIG Agenda 2030 Task Force).
Given FIG observer status the pre- meeting days (31st July to 1st August) confirmed the need and relevance of FIG involvement, particular in the side events and meetings related to the substantive work of the Committee of Experts.
President Diane Dumashie was invited to actively participate in:
1. The Global Geodesy Forum with the theme "Towards a Sustainable Global Geodetic Reference Frame GGRF"
Organised by the Subcommittee on Geodesy, this committee includes FIG Chair Ryan Keenan (Commission Geodesy). The session covered topics presented by Nichols Brown (Co- chair of the GGRF) highlighting the geodesy supply chain and the need for continuing measurement of the earth; Allison Craddock (JPL) outlined the subcommittees seven strategic actions to sustain the GGRF; FIG collaborative partnership working was presented by FIG President Diane Dumashie (see handouts) and highlighted the many FIG inputs, e.g FIG role and participation in the recently opened UN Global Geodetic Centre of Excellence, Bonn, Germany. The final presentation by Ryan Keenan focused on the context of geodesy in Africa.

| | |
| --- | --- |
| | Presenters slides: Left Allison Craddock, Right Diane Dumashie |
2. Geospatial information for Climate resilience- What does UN-GGIM do.
A discussion paper was prepared by the UK Ordnance Survey and the Bureau and Secretariat of UN-GGIM, which highlights actions that UN-GGIM could take to enhance the role of geospatial information within climate change mitigation and resilience efforts.
Slides presented by ordnance Survey Great Britain
Moderated by James Norris (OS), the opening by David Henderson (OS) set the scene for discussion along with invited comments from Yana Gevorgyan (Group on Earth Observations) and Diane Dumashie (FIG). Diane highlighted FIG work to elevate the awareness first that the global survey profession is already at the forefront of measuring change in our natural and built environment to ensure our planet remains sustainable and resilient; and that through the activities of the FIG task force on climate and the Agenda 2030 Task Force, surveyor professionals are well positioned to make contributions to a wide range of land and water related climate issues.
3. UN GGIM Geospatial Societies Network
FIG is a member of the Geospatial Societies network, a collation of international recognised organisations involved in coordinating, developing, managing and standardising geospatial information and related matters. Organized on a rotating Chair basis (FIG held this until 2022), the group convenes formally once a year typically during the session of the Committee of Experts and informally on specific projects. Diane Dumashie in attendance contributed to the groups two meetings during the five- days, to consider and discuss a strategic way forward to best contribute and leverage the work of the Committee of experts. Further information on the group may be found on the FIG hosted web site http://www.fig.net/unggimgs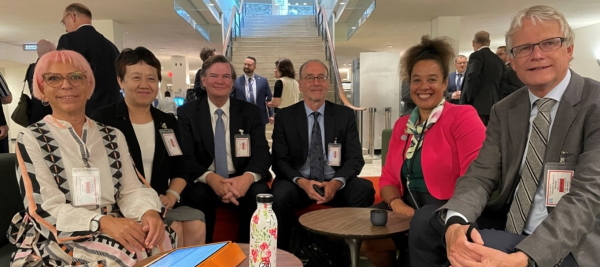 Attending members of the UN-GGIM Geospatial Societies network
With many opportunities to collaborate this is a forum and community that aims to be innovative. In this context the warmly welcomed announcement made by member states to take the agenda forward were:
The offer from the government of the Kingdom of Saudi Arabia, through its General Authority for Survey and Geospatial Information (GEOSA), to host and establish a United Nations Global Geospatial Ecosystem Centre of Excellence in Riyadh, Kingdom of Saudi Arabia.
The offer from the Government of Mexico to host the Seventh High-level Forum on Global Geospatial Information Management in Mexico City in October 2024, with the theme 'Accelerating Implementation: Achieving Resilience',
It was a pleasure to see the cross over with so many FIG people in this UN GGIM community underscoring the clear collaboration that benefits the ultimate goal that professionals serve society.
Janak Raj Joshi, Director General Nepal, Mikael Lilje Sweden, Dr M Al Sayel President General Authority for SGI Kingdom of Saudi Arabia.
In a range of ways the importance of individual engagement is a clear and meaningful contribution to UN-GGIM and the wider UN global agenda. Thanks for the work to the many in the past and present and those active at this year's sessions, including:
Expert Groups: Ryan Keenan
Networks: Academic Abbas Rajabifard and Rosario Casanova; Private Sector Ryan Keenan; Geospatial Societies Diane Dumashie.
Regions (that each conducts annual meetings at continent level): Americas, Dan Roman.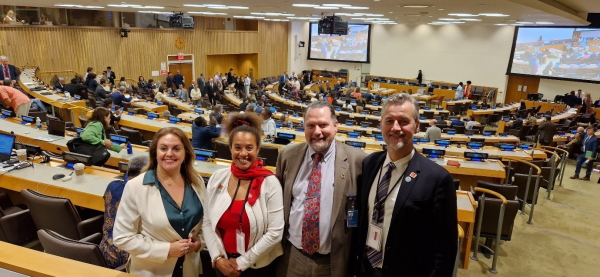 Left to right: Rosario Casanova, Diane Dumashie, Rosar Abbas Rajabifard and Ryan Keenan
It is also noteworthy that FIG individual members may attend as their respective, member state representatives, on this occasion this included FIG Vice President, Mikael Lilje, Sweden, and Janak Raj Joshi, Director General Nepal.
The 13th Session reached its conclusion on the final day. All documents and proceedings may be read here.
web site: https://ggim.un.org/meetings/GGIM-committee/13th-session/
Dr D A Dumashie, FRICS,
August 2023