News in 2015

Preparations for the FIG Working Week 2017 are already well under way
25-26 March 2015, Helsinki Finland
The Local Organising Committee for FIG Working Week 2017 held its initial meeting with FIG Manager Louise Friis-Hansen. Co-conference director is Pekka Halme, and the other representatives are Martti Pietikäinen, Heli Ursin and Paavo Häikiö (MML) who are representing the two Finnish Associations MIL and MAKLI. The meeting took place at the National Land Survey of Finland (NLS) where all LOC members conveniently work. FIG already now thanks NLS for their valuable support to the Working Week.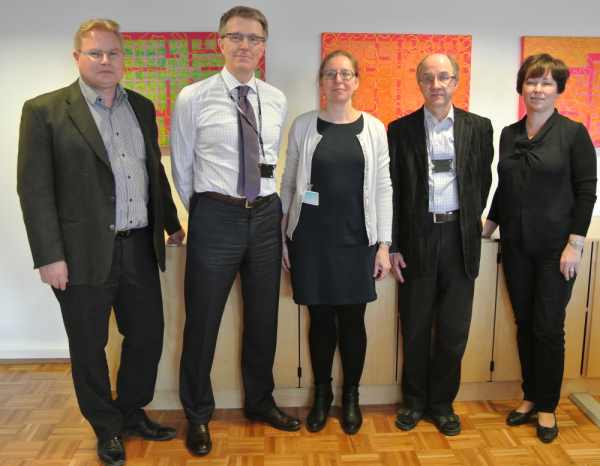 The dates for the FIG Working Week 2017 are settled to 29 May - 2 June 2017, and the Working Week will take place at the Helsinki Congress Centre, Messukeskus Helsinki, Expo and Convention Centre. Book the dates already now!
LOC and Louise met for preparations on 25 March and had a very efficient day discussing many issues in regard to the Working Week, hereunder theme, logo, content, partners, technical programme, social programme, the venue and the connection to the celebration of the 100th year of independence for Finland that is taking place in 2017.
On 26 March the local organisers had organised a meeting at the Messukeskus Helsinki who showed their impressive, light and modern facilities. The Conference Center is suitable for the FIG Working Week and gave the impression of the Finnish light architecture - however also had some very different conference rooms, that may give many a presenter competition for the attention of the audience!
The Theme, Logo and further preparations of the Working Week 2017 will be unveiled at the Working Week in Sofia, Bulgaria.
| | |
| --- | --- |
| Messukeskus Helsinki, Expo and Convention Centre | The lobby at Messukeskus Helsinki, Expo and Convention Centre |
| Exhibition area | Two of the session rooms are very different. |
| Local Organising Committee | |