Joint FIG/CIREA/HKIS Seminar on Appraisal and Property Protection
Beijing, China P. R., 18-19 October 2008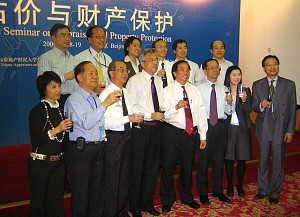 The Organising Committee of the FIG/CIREA/HKIS Seminar after the successful event.
The Joint FIG/CIREA/HKIS Seminar on Appraisal and Property Protection was organised by the China Institute of Real Estate Appraisers and Agents (CIREA), The Hong Kong Institute of Surveyors (HKIS) and FIG Commission 9 in co-operation with FIG Commission 8.
The major goal of this seminar was to intensify the discussion between valuers, surveyors, real estate experts, investors, financiers, urban planners, researchers, teachers and decision makers and develop common ideas for shaping the future. The seminar was very active gathering about 200 participants from nine countries.
Objectives
World population is concentrating to the cities and there is a huge need for new building land especially in many Asian countries. Before building the land use has to be planned, to get available and investments to be financed. Also valuations are needed. In the seminar these themes were discussed and papers presented especially in the Chinese but also in a wider context.
The seminar
The President of the China Institute of Real Estate Appraisers and Agents (CIREA) Mr. Song Chunhua, Vice-President Elect of the International Federation of Surveyors (FIG) Mr. Teo CheeHai, Vice-President of the Hong Kong Institute of Surveyors (HKIS) Mr. Stephen M W Yip and Vice Minister of Ministry of Housing and Urban-Rural Development of P. R. China Mr. Qi Ji gave welcome addresses. Keynote presentations were given by Prof. Kauko Viitanen Chair of FIG Commission 9 "Compulsory purchase and compensations – problems in present proceedings", Mr. Francis NG Deputy Director of Lands Department of the Government of Hong Kong (SAR), former President of HKIS "Price Tag for Public Utility Land grant", Prof. Liu Hongyu Vice President of CIREA, Director of Institute of Real Estate Studies, Tsinghua University "American sub-prime mortgage crisis: The Role of Real Estate Appraisers" and Mr. Chai Qiang Vice President (Secretary-General) of CIREA "Theory and Practice of Compensation Appraisal of Impaired Property in China".
The program was divided in two blocks based on language: English sessions and Chinese sessions. The lectures in English sessions were
Heidi Falkenbach: Effects of foreign property investments on the Finnish property markets
Vince Mangioni: A property valuation renaissance - A response to an international financial meltdown
Muhammad Bashar Nuhu: Development of sustainable pro-poor tools for property taxation in Nigeria: Challenges and prospects
Steven Nystrom: Diagnostic Tools and Perspective Practices for the Valuation Profession
Muhammad Bashar Nuhu: The adequacy or otherwise of compensation for crops and economic trees in Abujia: The case of Dutsen Garki-Nigeria
Kauko Viitanen: Compulsory purchase and compensations – elements for good practices
Shu Wu: How to evaluate the market value and insurable value of leasehold interest.
The lectures in Chinese sessions were
Compensation Valuation for Revocation and Modification under the Town and Country Planning Acts in the UK - Cao Junjian
Collective Sale in Hong Kong's Context and Its Implication to China - Charles Chan
The Application of New Methods and New Technology in Real Estate Appraisal and Property Protection - Mo Tianquan
Appraisal and Property Protection - Feng Jun
Current Situation, Problems and Trend of Chinese Compensation Regulation in Inappropriate Real Estate Appraisal - Qu Weidong
Discussion on the Ways of Private Property Protection Through Real Estate Appraisal - Zhang Dongxiang
Discussion on all types of real estate damage appraisal - Ling Xiaoping
Analysis on the Specialty of Real Estate Damage Compensation Appraisal - Zhou Zhiliang
Analysis on the Appraisal of Real Estate Value Decrease - Huang Jinqiu
Preliminary Research on Real Estate Appraisal in Judicial Expertise - Cui Taiping
Legal Protection of Real Estate Appraisal and Private Property Right - Hu Xiying
The Role of Real Estate Appraisal in Property Protection - Zhang Hongwu
Real Estate Appraisal and Property protection - Jiang Jianhui
Opinions and Suggestions on Real Estate Mortgage Appraisal - Yan Xudong
Expertise on the Appraisal Dispute of the Expropriation of Real Estate on the State-owned Land - Song Shenghua
Market Consultative Appraisal Business Real Estate Appraisal Marke - Gao Xishan
Top Priority of Income Approach in Mortgage Appraisal and Its Importance in Financial Stability - Zhang Yaoyuan
Types of Building Quality Defects and Corresponding Real Estate Loss Appraisal - Chen Li
Discussion on the Types of Quality Defects and Corresponding Appraisal of Real Estate Loss - Wang Junguo
Discussion Start from a Commercial Residential Building Quality Defect Yang Laibin - Yang Laibin
Discussion on the Appraisal Methods of Related Real Estate Loss Caused by Planning Modification - Jiang Wenjun
Research on the Real Estate Property Right Protection on the Person Against Whom a Judgment is Being Executed - Liu Hongshuai
Analysis on the Appraisal of Real Estate Damage Caused by Natural Disaster - Bie Zhi.
In addition there were in English sessions Workshop on FIG recommendations for good practice in compulsory purchase and compensations. On Sunday afternoon there were also a possibility to take part in a Technical Tour to The Palace Museum and Tian'anmen Square of China.
Visit at CIREA
After the seminar FIG Comm. 9 representatives lead by Kauko Viitanen visited CIREA office and discussed with Mr. Chai Qiang about goals of the FIG commission 9 and possibilities to activate the Chinese participation in commission 9 activities. It was also discussed to make this international seminar a tradition for Commission 9.
Conclusion
The seminar was successful and well-organised. The contents of the presentations and the opinions presented during the sessions and workshop help to carry out the tasks of the Commission 9. It's clear that this kind of seminars are worth to organize even in the future.
Kauko Viitanen
Chair FIG Commission 9, Valuation and Management of Real Estate
30 October 2008
| | |
| --- | --- |
| | |
| Some of the international participants visiting the Forbidden City. | |