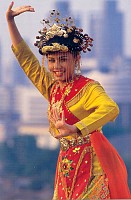 The focus of the 3rd FIG Regional Conference will be on economic, environmental and social development combining these three main factors to promote sustainable development. Therefore the theme for this first FIG regional conference in Asia and the Pacific is "Surveying the Future – Contributions to Economic, Environmental and Social Development", which hopefully gives responses to the actual problems of the region and develops models how surveyors and their expertise can help in solving these problems. This conference is organised by the International Federation of Surveyors (FIG), the Ikatan Surveyor Indonesia (ISI) and the Indonesian National Coordinating Agency for Surveys and Mapping (BAKOSURTANAL).

The conference is co-sponsored by the United Nations and its agencies FAO, UNEP and UN-Habitat and as other international partners by the International Association of Geodesy (IAG), The Asean Federation of Land Surveying and Geomatics (The ASEAN FLAG), the Permanent Committee on GIS Infrastructure for Asia & the Pacific (PCGIAP) and the International Society for Mine Surveying (ISM). The local co-sponsors include the Ministry of Research and Technology (RISTEK), The Governor of Jakarta City Government (DKI) and Kepala Badan Pertanahan (BPN) (National Land Agency). The conference is open to participants from all over the world with the main focus on Asia and the Pacific.

FIG is an international, non-governmental organisation whose purpose is to support international collaboration for the progress of surveying in all fields and applications. FIG is the only international association representing all surveying disciplines. FIG has members in more than 100 countries and in the member associations there are more than 230,000 individual members. In addition to 91 member associations FIG has 74 academic members, 14 affiliates and 14 correspondents. More information: http://www.fig.net.

Ikatan Surveyor Indonesia (ISI) is the most important professional surveying association in Indonesia. It has 250 members and is the Indonesian member association in FIG.

The Indonesian National Coordinating Agency for Surveys and Mapping (BAKOSURTANAL) is a Non Departmental Government Agency responsible directly to the President. The mandates of this Agency are:
to study and formulate national policies is surveys and mapping;
to develop national spatial data infrastructure (NSDI);
to coordinate functional activities in conducting BAKOSURTANAL task;
to monitor, guide and develop activities of government institutions in the field of national surveys and mapping;
to organise, develop and serve general administration in the field of general planning, organizational management, personnel, finances, archives, code and internal affair.
More information can be found at: http://www.bakosurtanal.go.id/
This conference will, in particular, provide a unique opportunity to focus on the interrelationship between the environment and economic aspects of sustainable development both in urban and rural areas as well as how the latest technology can help in this process.
We look forward to meeting you in Jakarta.
Prof. Holger Magel
President
International Federation of Surveyors, FIG
Dr. Sobar Sutisna
Chairman
Ikatan Surveyor Indonesia, ISI
Ir. Rudolf W. Matindas, M.Sc.
Head of Bakosurtanal
The Indonesian National Coordination Agency for Surveys and Mapping (BAKOSURTANAL)
Dr. Irawan Sumarto
Chair of the Organising Committee