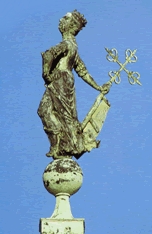 The focus of the 4th FIG Regional Conference will be on capacity building and its role in promoting sustainable development. This includes sustainability in promoting social and technological development and how these can be achieved by surveying and disciplines related to surveying, topography and geoinformatics. Sub-themes of the conference include the history and preservation of the hydrographic and geodetic heritage; development of physical and virtual infrastructures; quality standards; challenges and opportunities for project management in the future; welfare and security of life in legal and social aspects; and development of financing concepts, transfer of technology and professional skills. These include both technological disciplines of the surveying profession and land use and land management policies as well as development of measurement technologies and geoinformatics.
The other targets of this conference are to create debate and allow exchange of ideas about the state of art and the use of advanced technologies that can develop surveying profession. Further to promote co-operation on technology within and between the different disciplines of the surveying profession belong to the topics of this first FIG regional conference in this region.
The 4th FIG Regional Conference is the first FIG Regional Conference in Latin America and the Caribbean. We hope that this conference will build bridges between professionals in the region and at the international level and further to create understanding on the needs and developments in surveying and geoinformatics community worldwide.
This conference is organised by the International Federation of Surveyors (FIG) and the National Union of Architects and Engineers of Construction (UNAICC). As has been the case with all previous FIG regional conferences the conference in Havana will be organized in co-operation with other international and regional organizations like the United Nations and its agencies as well as international spatial information societies. The regional partners will include associations in Latin America and the Caribbean that are focused on land issues and spatial information as e.g. Sociedad Latinoamericana de Percepción Remota y Sistemas de Información Espacial (SELPER). The conference is open to participants from all over the world however with the main focus on Latin America and the Caribbean. In all previous FIG regional conferences there have been participants from 30-50 countries representing all continents.
FIG is an international, non-governmental organisation whose purpose is to support international collaboration for the progress of surveying in all fields and applications. FIG is the only international association representing all surveying disciplines. FIG has members in more than 110 countries and in the member associations there are more than 230,000 individual members. In addition to 94 member associations FIG has 80 academic members, 15 affiliates and 14 correspondents. More information: http://www.fig.net.
UNAICC is the National Union of Architects and Engineers of Construction representing all engineers and architects in Cuba including surveyors. UNAICC is also the Cuban member association in FIG.
This conference will, in particular, provide a unique opportunity to discuss the problems and achievements of Latin American countries in the rapidly changing world as well as to learn about the special conditions in Cuba.
We look forward to meeting you in Havana.
Prof. Holger Magel
President
International Federation of Surveyors, FIG
Ing. Julio Salgado Avila
President
National Union of Architects and Engineers of Construction
The call for papers has been published and deadline for submitting abstracts is 30 May 2005.
Online registration will be opened.
1st Invitation and Call for Papers
2nd Announcement, to be distributed in June 2005
On-line registration
Guidelines for papers
Template for preparing abstract (.doc-format)
Template for preparing abstract (.pdf-format)
Template for preparing paper (.doc-format)
Template for preparing paper (.dot-format)
Template for preparing paper (.pdf-format)
Form for key words (Surveyors Reference Library) (.doc-format)
Form for key words (Surveyors Reference Library) (.pdf-format)