HOW TO GET TO WARSAW
By plane
The easiest way to get to the capital of Poland from any place around the globe is, of course, by plane.

The city has 2 international airports and it is connected with over 180 direct flights. Besides domestic airline PLL LOT, planes from many international airlines land in Warsaw.
There are direct flights to the Polish capital from most European destinations, as well as major US cities and other long-distance destinations like Dubai, where Emirates Airlines fly once a day.
Special LOT Polish Airlines offer for attendees
Event attendees and their travel partners can enjoy fare discounts up to 12% on ECONOMY CLASS, and up to 17% on PREMIUM ECONOMY and BUSINESS CLASS travel by LOT Polish Airlines.

The discount applies only to PLL LOT's operational scheduled one-way and return flights (flight numbers LO 01 to LO 3999) to Warsaw in the travel period September 8th – 18th, 2022. The discount does not include applicable taxes and additional charges and does not apply to promotional tariffs.

Discounted tickets can be booked through the following link, on or before 11 September 2022. Prizes shown are the discounted prizes.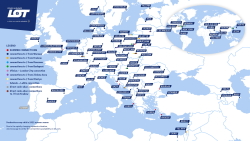 Click on the photo to see all the LOT connections
Warsaw Chopin Airport
Warsaw Chopin Airport is located around 10 kilometres from the city centre. It is served by five bus lines, two of which reach the city centre directly – 175 and night bus N32. A railway connection with Chopin Airport is also available. If you decide to take a taxi, it is advised to use the licensed taxi services offered at Chopin Airport: Ele Taxi, Sawa Taxi or Super Taxi. A fare to the centre should be around PLN 35-40 (EUR 10).
Welcome point at Warsaw Chopin Airtport Sunday 11 September
On Sunday 11 September there will be a welcome point on Warsaw Chopin Airport between 10.00 and 18:00. The people at this welcome point will help attendees with the transfers and all logistics. There are shuttle bus departures from the the Chopin Airport to the Congress Venue on Sunday 11 September at 11:45, 13:12 and 14:32.
Warsaw Modlin Airport
Warsaw Modlin Airportis a smaller airport servicing only budget airlines is situated in Modlin, 35 km from Warsaw, where the easiest way to get to the centre is to take a bus – ModlinBus, which operates 24 hours a day. The trip takes around 50 minutes and costs around PLN 35 (EUR 9). Another way to get to the city is by train. Journey takes around 1 hour 15 minutes and the ticket at the amount of PLN 19 (EUR 4) can be purchased in the Airport terminal. It is also possible to get to the city by taxi. Two recommended companies are Sawa Taxi and Modlin Taxi and the prices may vary between PLN 100-200 (EUR 25-50).
By train
Warsaw is also well connected by rail to other European cities. There are three train stations in Warsaw that provide international and domestic train services:
Warszawa Centralna (Central Warsaw) – situated in the city centre and well connected to public transportation network.
Warszawa Zachodnia (West Warsaw) which is set next to the international bus terminal.
Warszawa Wschodnia (East Warsaw) located on the east bank of the Vistula River (Praga).
Train tickets can be purchased at the ticket windows in the stations or on this webpage.
By bus
| | |
| --- | --- |
| The bus station Dworzec PKS Warszawa Zachodnia offers international and national connections. Tickets can be purchased at ticket offices at the station and on this webpage. | |