VISA REQUIREMENTS
Delegates are advised to apply for a visa not more than 3 months before departure. If you require a visa, you are advised to do so by 15 March 2020, to ensure adequate processing time. Please start collecting the required documents to apply for a visa as soon as possible.
General information about visas for the Netherlands
You may need a short-stay Schengen visa if you want to visit the Netherlands for a maximum of 90 days. This depends on your nationality. Visas must be applied for from the relevant Dutch embassy, consulate or representing consular Schengen office in the delegate's country of residence.
The nationality of the participants and delegates will determine whether or not they are required to apply for a visa. Delegates are requested to visit this website for more information.
In most countries, the applications should be submitted at an external service provider's office. The external service provider will charge a handling fee. In some countries, the Netherlands is represented by another Schengen country for visa affairs. Please take note of the documents to be submitted when applying for a visa for business purposes. Visa application rules differ from country to country.
Please consult the useful links below to aquire more information:
If you require a visa, please consult the full visa application process and requirements made available here.
Overview of nationals who need a visa is available here.
Overview of requirements per country of origin is available here.
Contacts for Dutch diplomatic and consular offices
A list of Dutch diplomatic and consular offices is available at here.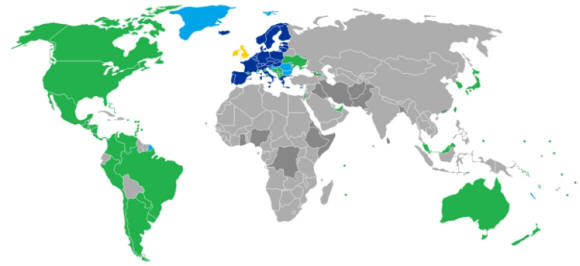 | | |
| --- | --- |
| | Schengen member states |
| | Other EU members outside Schengen Area but bound by same visa policy and special territories of the EU and Schengen member states. These countries are also legally obliged to join the Area as soon as they meet the criteria. |
| | Members of the EU with an independent visa policy |
| | Visa-free access to the Schengen states for 90 days in any 180-day period, although some Annex II nationals can enjoy longer visa-free access in some circumstances. (EC 539/2001 Annex II) |
| | Visa required to enter the Schengen states (EC 539/2001 Annex I) |
| | Visa required for transit via the Schengen states (EC 810/2009 Annex IV) |
| | Visa status unknown |
Invitation letter
If you require a visa, you need to obtain and submit an official letter of invitation from the conference organizers to help facilitate the visa process. Please note that letters of invitation are only issued to registered and paid/approved delegates.
Customs requirements
Do not forget that certain goods are illegal to bring into the Netherlands and others require a duty payment. For Dutch customs regulations, please visit this website.
For more information on travelling with medication, please consult this webpage on which medicines fall under the Opium Act for Schengen countries. If the medicine you will be taking to the Netherlands is listed in the Opium Act, you will need to apply for a Schengen certificate. For more information on medicines and customs, please visit this website, or contact the Dutch Public Information Service.