21 - 22 APRIL 2019 at Intercontinental Landmark 72
The 3rd Young Surveyors Asia and the Pacific Meeting is a two day event that provides an environment for Young Surveyors from different cultures, countries, academic qualifications, and professional experience to discuss the issues facing their region, and plan for a resilient future. Join us to connect and learn the importance of geospatial information and how it can be used to create harmony among the spatial, social, economical and environmental aspects of a city and inhabitants.
Registration
The fee for the two day event is 55 EUR.
To register, please go to - http://fig.net/fig2019/registration.htm
Please note, attendance in the FIG Working Week requires a seperate registration and the fee is 250 EUR.
Congratulations - FIG Foundation Grant Recipients
A big thank you to everyone who applied for the FIG Foundation Grant to attend the Third FIG Young Surveyors Asia and the Pacific Meeting and the 2019 FIG Working Week in Hanoi, Vietnam!
After reviewing over a hundred quality applications from around the world, we present to you the FIG Foundation Grant Recipients;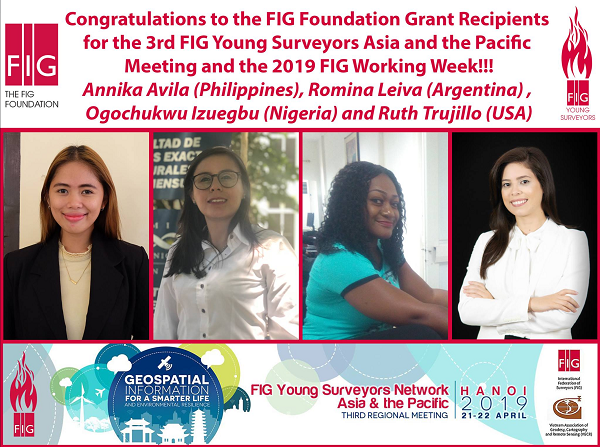 Preliminary Programme


SUNDAY 21 APRIL 2019

8:30-9:00
Registration
9:00-10:00
Welcoming Addresses
The welcoming addresses of the 3rd Young Surveyors Asia and Pacific Meeting will provide the opportunity for young surveyors to hear from distinguished guests from Vietnam Association of Geodesy, Cartography and Remote Sensing (VGCR), FIG, FIG Foundation, and the FIG Young Surveyors Network. These welcoming and associated presentations will set the agenda for the one day meeting and focus on the theme 'Geospatial Information for a Smarter Life and Environmental Resilience.'
10:00-10:30
Group Photo
10:30-11:00
Coffee Break + Speed Dating
11:00-12:00
Session 1: "It's a small world"
The phrase "It's a Small World" is used when you have encountered the same people, events, or situations. The Asia Pacific region is one of the largest and most diverse regions in the world, however there are many common challenges and opportunities; making the world that much smaller. The YSNAP welcomes invited guests to present and discuss the meeting theme "Geospatial Information for a Smarter Life and Environmental Resilience." The format of this session will involve formal presentations, followed by a facilitated panel discussion!
12:00-13:00
Session 2: What is Resilience and why does it matter?

Resilience is the ability to recover from setbacks, adapt well to change, and keep going in the face of adversity. It applies to all facets of life, and during this session we will learn about the various forms of resilience and why it is important!

This session will be a balance between Young Surveyors from the Asia Pacific Region and experienced Surveyors sharing their perspective on resilience.

We will hear stories from local projects, stories of collaboration and contribution to our profession, and learn new skills for resilience. This session will inspire and encourage participants to be a part of the network, seize opportunities and at the same time give back to society.

13:00 - 14:00
Lunch
14:00 - 15:00
Session 3: Enabling a Smarter World

We live in a world that is constantly changing. How can we as young surveyors use our skills to move beyond the information age and enable a smart world? Join us for an interactive session focussing on the the power of geospatial information, technology and the future of resilience!

15:00 - 15:30
Afternoon Tea
15:30 -17:00
Session 4: YSN AP - Building blocks for the future!

Where do we go from here? Join us for a region specific goal setting session. Together we will record our goals and objectives for the future of YSNAP Network! Young Surveyors attending this session will build upon connections made during the meeting, and learn how to positively influence the future of our network in a changing world.

17:00 - 18:00
Closing Address
19:00 -
Late Social Function/Cultural Evening

Join us for a traditional Vietnamese Dinner! Here participants will experience the culture of Vietnam, and have an extra opportunity to chat with the speakers, along with our sponsors and partners.

MONDAY 22 APRIL 2019

TBC
General Assembly
07:00 - 16:30

Join the FIG Young Surveyors on an eco-friendly tour highlighting the challenges and opportunities for environmental preservation within Hanoi.

After pick-up from Hanoi National Convention Center, journey southbound to the Ninh Binh Province, a UNESCO World Heritage Site by air-conditioned bus.

First, visit to Tam Coc, venture off-road with a boat cruise around the karst cliffs, lush rice paddies and atmospheric caves along the Ngo Dong River. Buffet lunch is set at a local restaurant serving you the typical Vietnamese cuisine.

After lunch, you will continue your journey to Hoa Lu, the ancient capital of Vietnam in the 10th and 1th centuries, and explore the historical city on a guided tour, admiring its ancient Le and Dinh dynasty temples.

Your tour ends with the drop-off at Hanoi National convention center in the evening.

TBC
FIG YSN Charity Event
TBC
FIG Working Week 2019 Welcome Reception